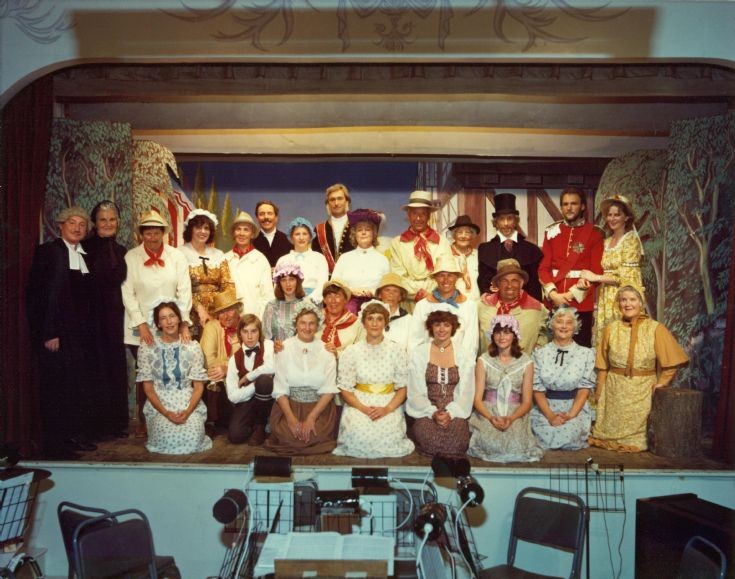 The Slaugham Archive
Handcross Amateur Operatic Society
The Handcross Amateur Operatic Society's production of The Sorcerer in the Parish Hall was very ambitious and was declared to be an outstanding success according to a press review.
It is great to see the Parish Hall looking so good with an orchestra pit, and footlights and microphones rigged up at the edge of the stage.
This year, 2014, is exactly 100 years since the Parish Hall was built and it is worth reflecting on the thousands of events that have taken place in that time, from operas, plays, concerts, dances, meetings, to humble jumble sales. One could say it has been well used!
A numbered version of the picture is available be clicking on Large Version.
I can name a few, but please can anyone identify more?
1 Gilbert Wales, 4 Ruth Payne, 6 Dick Leech, 7 Judy Lundgren, 8 Tim Hutchings, 9 Ann Burrough, 10 Maurice Abbott, 11 Hilda Abbott, 12 Nicholas Arnold, 13 Mark Irvine, 14 Janet Angus, 15 Penny Thompson, 16 Gladys Fraser, 17 Peter Hayes, 19 Nora Ray, 20 Helen Beard, 24 Yvonne Sinclair, 26 Ernie Arnold, 27 Sue Aylmer, 28 Norah Housby.
Click on Open Document to view the programme.
Other photographs of the production can be found at
picture #1023
and
picture #2378
.
View Large Version
Open Document
Picture added on 31 January 2014 at 11:34
Comments: