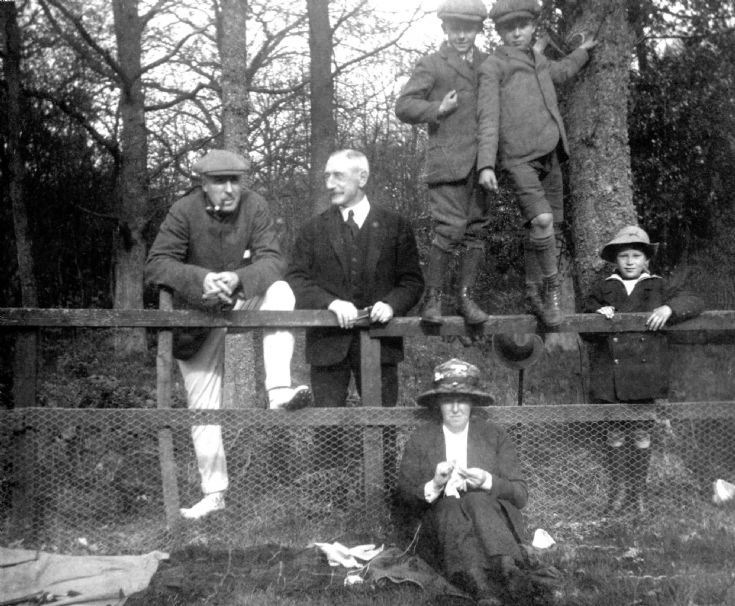 The Slaugham Archive
Picnic at Pease Pottage cricket match
On 30th April 1921 some of Nix family from Tilgate Forest Lodge have walked the short distance to the Pease Pottage cricket ground. Here we find them and their friends "watching cricket after picnic tea. Very hot day."
From his clothing, Charles Nix is obviously playing today.
From the left are Charles Nix, Major Thomson, Mrs Thomson, Bill Thomson, Stephen Nix, and Charles "Luke" Nix.
Blankets are positioned so that the rabbit-proof fencing affords a comfortable backrest.
During the Second World War the cricket field was ploughed up to provide food for the war effort. Some years after the Armistice, the field was converted into a car-breakers yard and, indeed, it still operates as such today under the name of G. W. & G. Bridges.
It is with a feeling of melancholy to surmise that the view of anyone standing in the same position as those in the photograph would be gazing out on hundreds of wrecked cars!
Open Document to view five cricket-related newspaper cuttings from the 1930s.
During this era, three Pease Pottage families dominated the cricket team, namely the Gates, the Rays, and the Cooks. Tom Gates's involvement goes back well into the previous century, and his enthusiasm for the game was taken up by his three sons, Ernest "Sammy" Gates, Alfred "Froggy" Gates, and Charles "Chadder" Gates.
One of his daughters married Harry Ray, and their three sons, Guy "Gerry" Ray, Joe Ray, and Roger Ray, were all cricket-mad.
From the third family came Nelson Cook and Colin Cook.
Open Document
Picture added on 08 February 2014 at 15:21