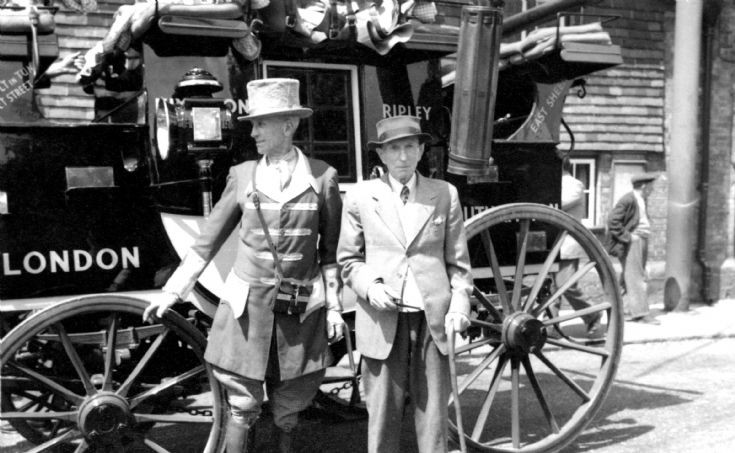 The Slaugham Archive
"Red Rover" stagecoach in Handcross
In July 1954 a series of runs by the famous "Red Rover" stagecoach took place from London to Brighton. The coach was pulled by teams of four horses involving seven changes of horses on the way. One of these was at the Red Lion in Handcross where temporary stabling facilities had been made available in the yard of the old coaching inn.
The timetable allowed ten hours for the trip and this was achieved at an average speed of 8 mph. As can be seen from the attached video, it did mean that there was some urgency at each stop to change horses, and, as happened at the Red Lion, the passengers were urged to descend quickly to have lunch in the pub.
The photograph shows my 80-year-old grandfather, Harry Ray from Pease Pottage, posing with one of the coachmen dressed in traditional uniform. My grandfather worked for Col. Warren at Handcross Park, and then for the Nix family at, firstly, Tilgate Forest Lodge, and later at Free Chase, Warninglid. These were interesting times for him as his chauffeuring duties changed from driving horse-drawn carriages around the turn of the century to the arrival of the early motor cars.
Click on Open Document to view two newspaper cuttings of the run.
My grandfather came to watch the arrival and departure of the stagecoach and my father, Roger Ray, took a very short cine film of the event. It is only 25 seconds long, but after slyly adding titles, playing the film twice, once at half-speed, I have managed to increase to length to 1 minute 35 seconds!
Click on View Video for the epic.
Open Document
View Video
Picture added on 16 February 2014 at 11:37