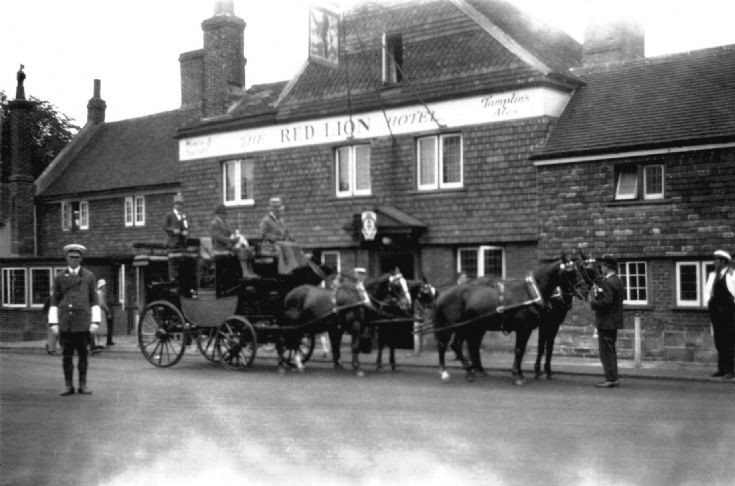 The Slaugham Archive
Stagecoach with RAC patrolman
This poor-quality photograph shows a stagecoach pulled up outside the Red Lion, Handcross and perhaps the passengers are taking their time downing their last glass of Tamplins ales. The Brighton brewer was founded in 1821 and was acquired with 400 tied houses by Watney Mann Ltd in 1953. They ceased brewing in 1973.
I note from observing other photographs and the video that whenever a stagecoach is stationary a coachman stands at the head of the team to prevent the horses being spooked and galloping away!
A patrolman from the RAC is on duty and equipped with white armbands to better control the traffic. The High Street in Handcross may have been the main A23 London to Brighton road at that time, but he does not appear to be very busy.
Among the stagecoaches which operated the London to Brighton run in earlier years were "The Regent", The Royal Brunswick", The Princess Charlotte", "The Coburg", "The Albert", and "The Blue Coach". It is noticeable that, except for the last named, the names all have royal connections, no doubt due to the Prince Regent's activities in Brighton.
Other famous coaches of the time were "The Times", "The Age", and "The Comet".
Picture added on 22 February 2014 at 14:09