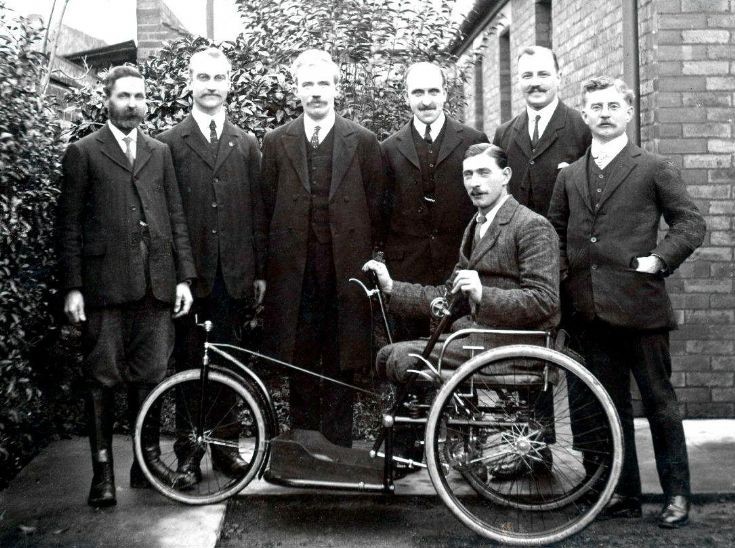 The Slaugham Archive
George Langley of Betts Folly, Warninglid
This is a photograph of George Langley who was born in Betts Folly, Warninglid in 1883 to William and Eliza Langley (née Stoner). He joined the Royal Sussex Regiment on 16th November 1898 and fought in the cavalry in the Boer War. He lost both his legs below the knees in the Battle of Abrahams Kraal in 1902.
He went on to serve another seven years in India in the Kings Own Shropshire Light Infantry. The invalid regiment used to service the Indian Army, probably in stables as harness cleaners.
He was invalided out as a non-resident Chelsea Pensioner in 1909.
The photograph, taken between the 1st and 2nd World Wars at High Beeches, Handcross, shows George in an invalid carriage in the company of fellow male servants. Pulling and pushing the two handles to and fro achieved movement, and a lever provided to means to select forward or backwards motion. The right handle was turned clockwise or anti-clockwise to turn the front wheel, and the handle was attached to a braking system on the rear hub. A lever on the side selected a three or four speed gearing system.
He was employed as a boot cleaner and no doubt also polished the silverware.
Although not shown on the photo, he was fitted with a large pair of footwear, which enabled him to walk on the stumps.
His great-nieces Mabel Wren and Kathleen Langley remember him wearing the stump apparel when he worked in an ice cream kiosk on Portsmouth seafront.
He married his nurse and lived in New Road, Horsham. At some point he moved to Portsmouth where he died in 1940 during a bombing raid.
Picture added on 24 February 2014 at 17:17
This picture is in the following groups
People