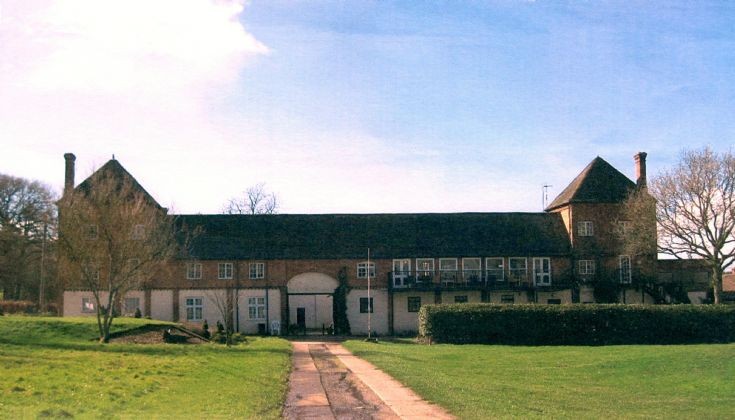 The Slaugham Archive
Buchan Hill Farm, now Cottesmore Golf Club
It seems to be most unlikely that an old picture of this building exists and therefore I have paid it a visit to take a photograph; my last visit being over 50 years ago.
Phillip Saillard made his fortune in marketing ostrich feathers and this trade provided the finance for the palatial Buchan Hill estate, which included a farm with its extensive buildings, pictured here. They were built in the form of a quadrangle with three-storey labourer's cottages in the corners.
The arched entrance is near the centre of this front elevation. Because the estate house is now called Cottesmore School, the farm buildings and grounds which have now been re-developed were named Cottesmore Golf Club.
The drive entrance has been relocated further westward and the new frontage of the building has been extensively added and developed with a huge parking area and additional buildings. It now has hotel accommodation, restaurant, health club, and a golf shop.
In the 1960s, when Alan Ansfield left his birthplace, the keeper's cottage known as Desmond's (or Dismal) Castle on the Hyde estate in Handcross, he came to live in the right-hand cottage of the castle-like Buchan Hill Farm.
Buchan Hill had two approach drives with gatehouses, east and south, with possible a third from the north, passing by a lake, and joining the Crawley to Horsham road. The lake is now approached over a link-road footbridge, through part of a Crawley leisure park which includes a fishing lake.
Away from the front of the house there was a large stables and coach building, and also a fruit and vegetable garden.
All this was achieved, we are led to believe, from trading in ostrich feathers!
Picture added on 27 February 2014 at 17:42