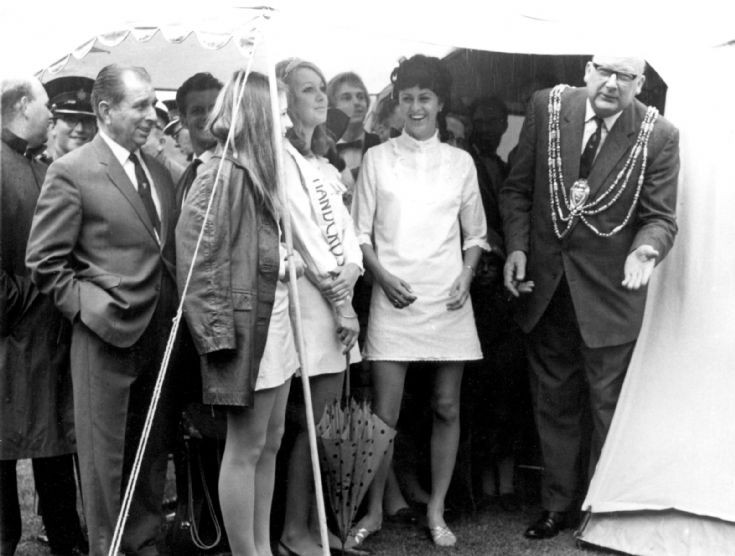 The Slaugham Archive
Handcross Band Queen 1969
It seems that the British Legion beauty queen contests had come to an end in 1967 or 1968, but the honour of holding the contest was passed on to the Handcross Band, for perhaps only one year.
At a dance held in the Parish Hall on Saturday 16th August 1969, the Handcross Band Queen was chosen and the winner was 20-year-old Valerie Prescott who happened to be on holiday in the area. The runners-up were 18-year-old Joyce Squires from Balcombe, and 17-year-old Elaine Clarke from Burgess Hill.
On the following Saturday the Handcross Band Fête was held in the Recreation Ground, and Miss Prescott and her attendants headed the parade from the Red Lion to the Recreation Ground where the Mayor of Brighton performed the opening ceremony. His worship was Frank Masefield Baker, a former resident of Staplefield.
The photograph shows Miss Prescott wearing the sash, Miss Squires to her left, and Miss Clarke with the jacket over her shoulders. Behind the last-named attendant is Roger Ray, who helped organise the dance and the fête. The Mayor appears to be doing a rain check!
On the extreme left, I think that is Brian Message chatting with Brian Copson in the St John's Ambulance uniform.
Aficionados of hemlines will have noticed how they have risen from near-ankle height (
picture #1074
), to just below the knee (
picture #1077
), and finally to many inches above the knee as above. All in a period of about 12 years!
Click on Large Version to view a newspaper cutting of the contest.
Click on Open Document to view a letter of acceptance from the Mayor of Brighton, and a summary of the winners and runners-up of the beauty queen contests over a period of some 17 years.
View Large Version
Open Document
Picture added on 23 March 2014 at 11:03