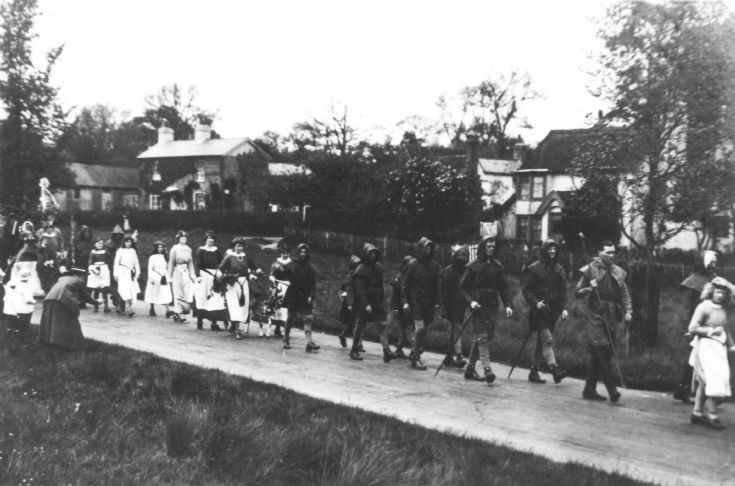 The Slaugham Archive
May Day Festival 1920 Staplefield
During the four years from 1919 to 1922, Staplefield celebrated May Day on the Common during which a May Queen was crowned.
The schools of Staplefield, Handcross and Warninglid played a major part, and for weeks beforehand costumes were researched and manufactured by an army of seamstresses from the villages. Everyone took part in the procession which included dozens of characters, both historic and legendary; the most famous being Saint George and the Dragon, and Robin Hood with his, according to the programme, Jolly Outlaws.
The first such celebration was due to take place on 1st May 1919, but due to snowy conditions it was postponed until the end of May, and so it remained at that time for the three succeeding years.
This, and the next two pictures, come from the second May Day event held on 20th May 1920. The above photograph shows, I surmise, the group of foresters "in green tunic, with hood and hosen".
The driving force behind the planning and execution of these celebrations was Mrs Maud Messel from Nymans who also made generous contributions towards the costs.
Click on Open Document to view the programme, which was made with paper produced in a traditional manner and bound by thread.
Open Document
Picture added on 05 April 2014 at 10:03