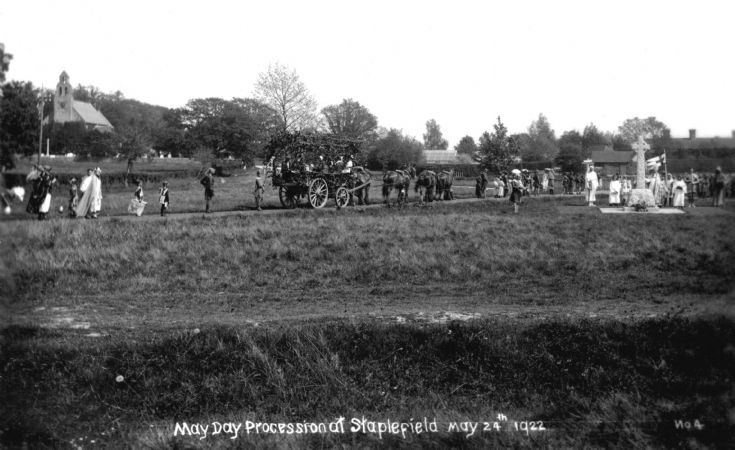 The Slaugham Archive
May Day Festival 1922 Staplefield
The May Day procession seems to have come to a halt at the war memorial with a bishop and others paying their respects to those who did not return to the village just a few years before.
The Large Version shows part of the parade and the newly-erected gleaming-white war memorial looking magnificent in the Spring sunshine. Don't forget to left click when you see the + sign.
In the foreground of the picture there are two embankments which are not to be seen today. This was one of two old tracks used by the general public to cross the common by foot and perhaps by horse, with or without a carriage. Basically they provided short cuts from the end of Tanyard Lane to the Slaugham crossroads beside the cricket pavilion, and another to the Victory Inn. At one time, before the victorious court battle in 1848 to sell intoxicating liquor was granted, the last-named site comprised two cottages, one of which was a village shop run by a Mr Simmonds. Naturally, he called his new pub "The Victory".
Click on Open Document to reveal a map of 1874 showing the two tracks.
View Large Version
Open Document
Picture added on 05 April 2014 at 20:38