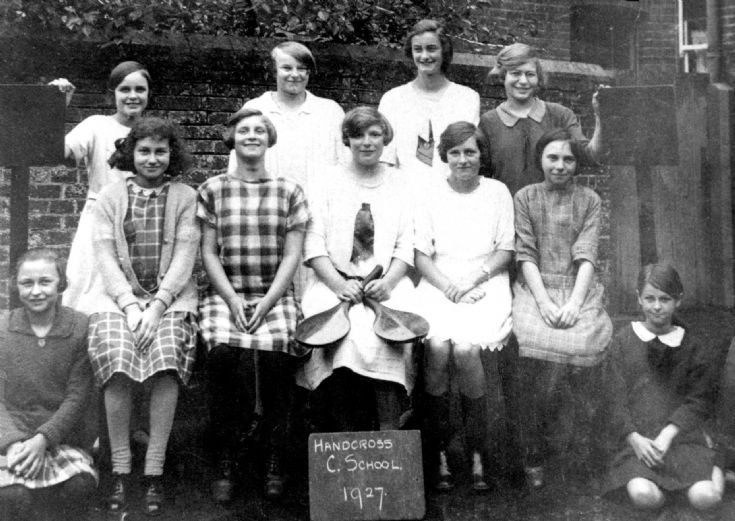 The Slaugham Archive
Handcross school stoolball team
This is a wonderful picture of Handcross school stoolball team with the wickets and bats on display.
Except for Lucy Stockton who lived in Pease Pottage, all the girls came from Handcross. Their married names are entered in brackets.
From the left:-
Back row:- Lucy Stockton, Violet Boniface (Chas. Johnson), Cicely Weller (Stripp), Kathleen Sands.
Middle row:- Ella Rice, Lily Doggett (Len Snelling), Hepsy Doggett (Brown), Olive Squires (Wenlock), Nellie Newman (Stoner).
Front row:- Rosina Rapley (Wilkinson), Eileen Stripp.
The names were kindly supplied by Mrs Elsie Cosens when she was a young 96 years old. She is now 101, and still quite well! She was due to appear in the photograph but was off sick from school on that day. They needed eleven players in the team photograph so Eileen Stripp from the junior team was asked to stand in! She was well over 12 months younger than any of the others.
The Large Version shows a close up. A left click will further enlarge the image.
View Large Version
Picture added on 20 April 2014 at 20:36
This picture is in the following groups
Stoolball
Comments: