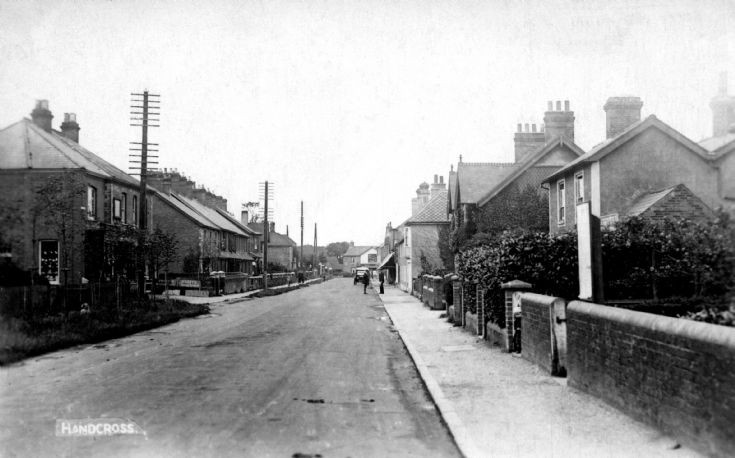 The Slaugham Archive
Handcross High Street
In this early picture of Handcross High Street there are a handful of residents and just two parked vehicles outside the Post Office. One almost expects a ball of tumbleweed to come tumbling down the street.
In the early years of the motorcar there were few petrol stations and fuel was often purchased in cans. It seems that the hardware shop in Handcross sold cans of Pratts petrol, but no doubt the trade dropped off once Mr Quick installed his pump as seen on
picture #465
.
The telegraph posts were quite imposing structures, but no doubt the residents welcomed the benefits brought by the latest technology.
There are more people in the picture than a quick glance would indicate. There are two men chatting outside Batchelors Buildings and another man outside Roberts House. On the left there are three men and a well-dressed lady.
However it is easy to miss a young girl in the grass outside Chodds Farmhouse, and another peeping from behind a pillar on the right.
The Large Version shows a close up. Left click again to zoom in and out.
View Large Version
Picture added on 04 May 2014 at 08:36