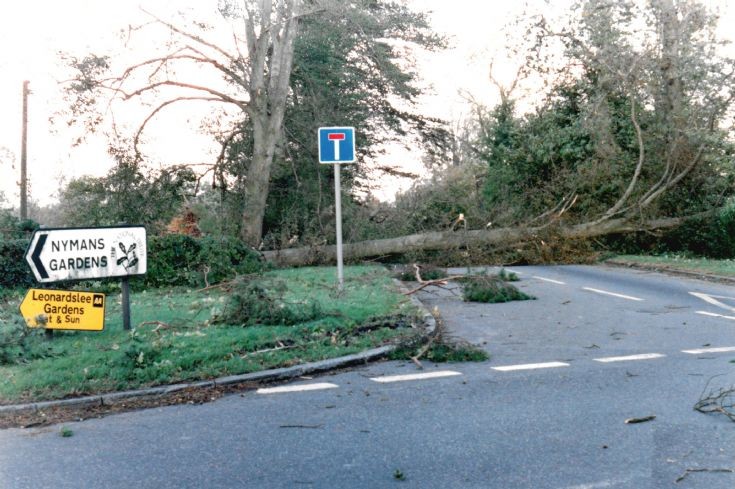 The Slaugham Archive
Great Storm at Gravelpit Corner, Handcross
On the night of Thursday/Friday 15th/16th October 1987, the South-East of England, in particular, was visited by hurricane-force winds which caused deaths and brought down millions of trees. It was not too long before it was named The Great Storm; the worst such storm for almost 300 years.
The villages covered by this website are located on high ground and, as such, received the full force of the 100+mph winds. My father, Roger Ray, took many photographs around Handcross on the following day and this is one he took at Gravelpit Corner at the start of Balcombe lane. This shows a large tree, probably a lime, blocking the road leading to the village school and Handcross Park.
At that time, the main A23 dual carriageway was located on the original road from Pease Pottage to Handcross School; at which point the road veered off to pass under the newly-completed bridge. It was possible for southbound cars to leave the A23 at that junction, but there was no access to join the northbound traffic; hence the "No Through Road" sign in the picture.
A subway provided access to the school and nearby houses for pedestrians. (See
picture #512
).
Picture added on 06 May 2014 at 09:04