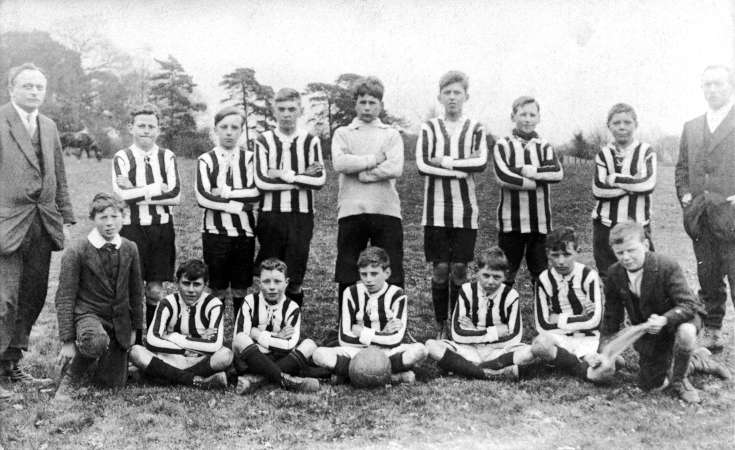 The Slaugham Archive
Handcross School football team
The original photograph of Handcross School football team is badly faded but it has been restored as much as possible.
I am surprised that the team had such excellent strip supplied to them.
The gentleman on the left is headmaster Harry Mason who lived in School House with his wife, Lizzie. The gentleman on the right is named as Mr Jones.
I think the boy kneeling on the right is the linesman as he is probable waving the flag!
Around that time a match was played between the boys of Pease Pottage and Handcross at the Swan meadow, Pease Pottage. Handcross were the victors 2-1, possibly because, as above, they had 12 players in their team!
The brief match report from a newspaper can be viewed by clicking on Open Document. My grandfather, Harry Ray, seems to have been involved with the Pease Pottage team.
The report refers to an adult football team in Pease Pottage, but, other than a couple of match programmes from this century, I can find no archive material of the village team. Please, does anyone have any photographs that can be uploaded to the website?
View Large Version
Open Document
Picture added on 12 May 2014 at 11:53