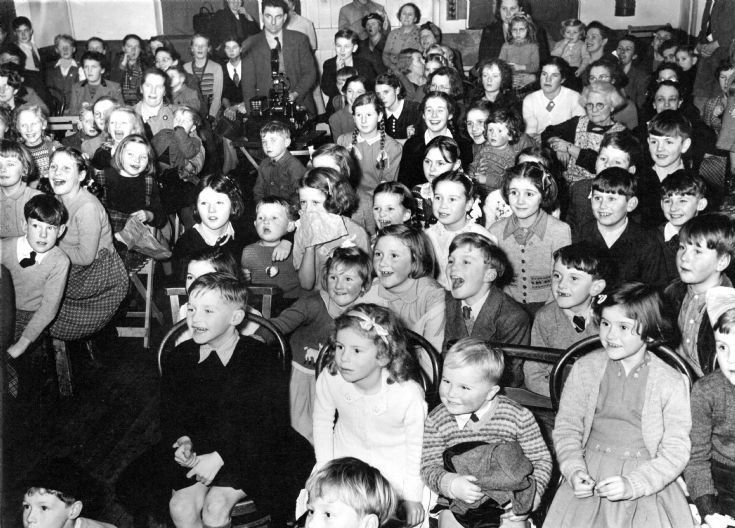 The Slaugham Archive
Warninglid film show
With few families owning a television set at that time, my father, Roger Ray, often put on film shows for the children of the parish, usually showing Disney cartoons. This one took place in the Seaforth Hall, Warninglid.
I particularly recall him putting on shows in the rifle range in Handcross Parish Hall while the parents were rummaging amongst the bargains in the jumble sales taking place next door.
My father is on duty behind the 9.5mm projector, and I am standing beside him.
However, I recognise no others in the picture. Please can anybody help?
All the children will now be in the late 60s, or early 70s.
The Large Version shows a close up. Left click again to zoom in and out.
Two newspaper cuttings of Warninglid events can be viewed by clicking on Open Document.
The first is from the Mid Sussex Times from 1935 and covers a dance held by the Warninglid Dance Club in the Old School, Slaugham.
One of the judges of the ankle competition was Miss Denise Robins, the well-known authoress who lived in nearby Furnace Pond Cottage. The winner of the competition was my mother, 17-year-old Nora Longhurst.
I am pleased to report that ankles, and feet, run in the family.
The second is from the Mid Sussex Times in 1939 and covers a concert in the Seaforth Hall featuring the Handcross Minstels and other entertainers. A picture and details of the minstrel band can be found with
picture #1117
.
I can remember my grandfather, Harry Ray from Pease Pottage, reciting a few of his monologues, but, until I read this cutting, I was unaware that he performed in public.
View Large Version
Open Document
Picture added on 14 June 2014 at 16:35
Comments: