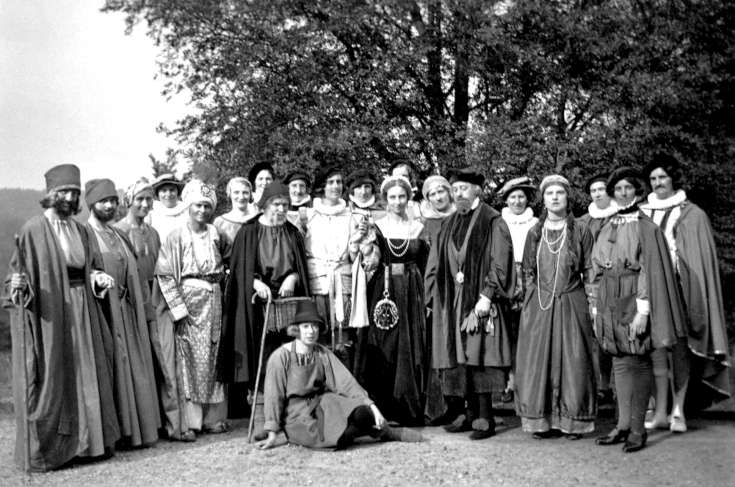 The Slaugham Archive
Shakespeare Society "Merchant of Venice"
Handcross Women's Institute, with a large contribution from Staplefield village, formed a Shakespeare Society in the early 1930s and this ran successfully for over 20 years, producing, so far as I can tell, at least 8 productions.
The society was backed at all times by Mrs Maud Messel of Nymans, and with the near-professional expertise of its producer, Miss Daphne Dengate, the productions and costumes were of exceptional quality.
The play featured here is the "Merchant of Venice" which was an open-air performance in August 1934 in the idyllic surroundings of the gardens at Nymans.
With the cast all coming from the WI, male actors were scarce, and it can be quite a shock to see so many bearded ladies in one place! Would the Bard have approved?
From left to right:- Miss Louisa Jackman, Mrs Edith Biggs, Mrs Faulkner, Mrs Sayers, Mrs McQuade, Mrs May Longhurst, Mrs Toogood, Mrs Doggett, Mrs Funnell (seated), Mrs Bartlett, Mrs Lily Jakes, Mrs Wilson, Miss Daphne Dengate, Mrs H. Tulley (hidden), Miss Hooper, Mrs Cracknell, Mrs Edith Snelling, Mrs Mills, Miss Phyllis "Mollie" Dengate, Mrs Ethel Jeffery, Mrs F. Weller.
The Large Version shows a close up.
View Large Version
Picture added on 15 June 2014 at 11:58
Comments: