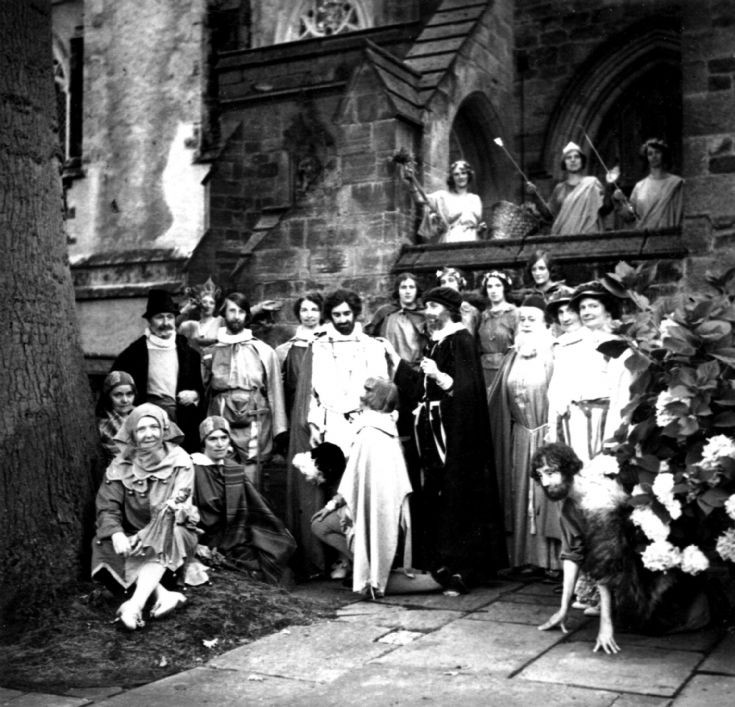 The Slaugham Archive
Shakespeare Society
The Shakespeare Society of the Handcross WI performed "The Tempest" in about 1938. The photographs were taken in the courtyard on the east side of the ruins of Nymans house, as can be seen in
picture #41
.
There is a note indicating that this is their first production of the play, and, although I can find no photographic or other evidence, I assume that another production of "The Tempest" was performed after the war.
From the left, the performers are:-
Seated: Mrs Edith Biggs, Miss Arnold, Mrs Sayers.
Kneeling: Miss Louisa Jackman, Mr Funnell.
Above: Mrs B. Weller, Miss Daphne Dengate, Mrs Ethel Jeffery.
Standing: Mrs Alice Snelling, Mrs May Longhurst, Mrs Bartlett, Mrs Toogood, Mrs F. Weller, Unknown, Mrs Lily Jakes, Mrs Faulkner (hidden), Mrs Cracknell, Mrs H. Tulley, Mrs W. Snelling, Mrs Wilson, Mrs Hephzibah Doggett.
The Large Version shows a close up.
View Large Version
Picture added on 18 June 2014 at 12:41