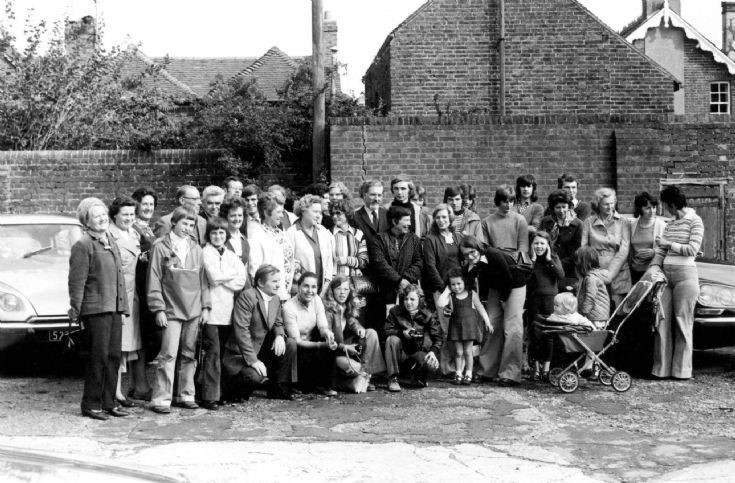 The Slaugham Archive
Slaugham and St Martin des Besaces Twinning
In 1974 the first tentative trip was undertaken by the newly-formed twinning associations when 17 people in four cars arrived in Handcross from the two Normandy villages of St Martin des Besaces and La Ferrière au Doyen.
The visitors met the host families and the weekend was spent visiting local sights and generally getting to know each other.
On Monday morning both guests and hosts met in the Red Lion car park for a final photograph before the French convoy made its way to the homeward ferry port.
Two luxury left-hand drive Citroen DS cars are shown; Pierre Prunier operated a Citroen dealership near St Martin des Besaces.
This year, 2014, marks the 40th anniversary of that first visit and once again the French visitors will be arriving in the parish to celebrate this landmark. They arrive on Friday, 25th July and it is to mark this anniversary that I have uploaded a small collection of material for the website.
The Large Version is a numbered version of the picture.
I can name the following: 1 Ivy Rayner, 2 Joan Dick, 3 Eileen Leadbetter, 4 Raymond Marie (Mayor of La Ferrière), 5 Max Prunier, 6 Roger de Panthou, 7 David Pearce, 8 Pierre Prunier (mayor of St Martin des Besaces), 9 Marie-France Prunier, 10 Ruth Payne, 11 Hilary Preston 12 Alan Greenfield, 13 Helen Beard, 14 Christine Pearce, 15 Tiffany Pearce, 16 Kevin Greenfield, 17 Elizabeth Benner, 18 Barry Ray, 19 Alison Ray, 20 Nora Ray, 21 Josie Ray, 22 Pierrette Prunier (sister of Pierre).
Click on Open Document to view a similar photograph, but some of those above have disappeared, and two others have joined the group! They are Roger Ray (next to Mme Prunier; President of the Slaugham Twinning Association), and Sid Beard on the extreme right.
In the last-described picture the gathering has attracted the attention of someone lurking in the bushes keeping an beady eye on the jollities!
View Large Version
Open Document
Picture added on 16 July 2014 at 10:05
Comments: