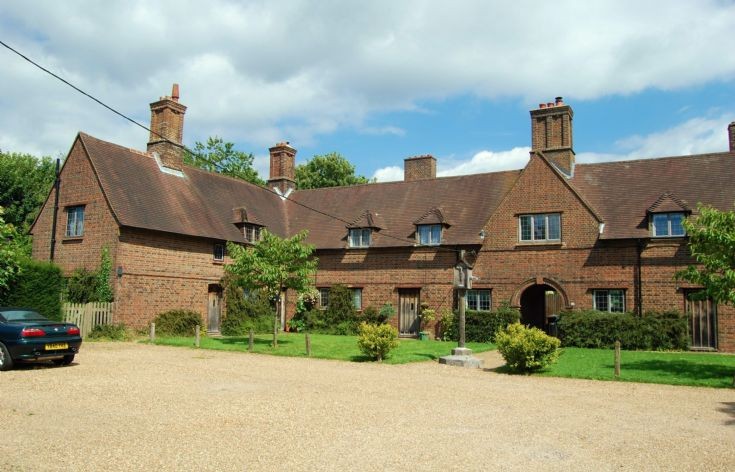 The Slaugham Archive
Chodds Cottages in Handcross High Street
A glimpse of Chodds Cottages can be seen on
picture #1004
, but, as a resident there, I hope that viewers will be interested in the photographs shown here and on
picture #1205
.
The main picture shows the six cottages with the signpost moved further away from the road, safe from any marauding white delivery vans!
The cottages were built by Leonard Messel around 1922 and the signpost was erected in memory of those who fell in the Great War.
The Nymans architect, Norman Evill, is known to have designed a row of cottages in the village in the early 1920s, and there would seem to be no doubt that they were Chodds Cottages.
The Large Version shows the signpost whose roof and cross on top were renovated by Nymans staff when the signpost was re-located.
A metal shield is fixed to the side opposite the figure and shows the Messel crest which is used in the garden, carved in stone, on the "Lion Arch" on the east side of the walled garden, and elsewhere if I remember correctly. I imagine that the tree is a representation of the Lebanon Cedar on the main lawn.
The pattern, with the tree and two bars, is also used in the combined shield seen on
picture #350
.
Click on Open Document to view the shield.
View Large Version
Open Document
Picture added on 18 July 2014 at 16:47
Comments: