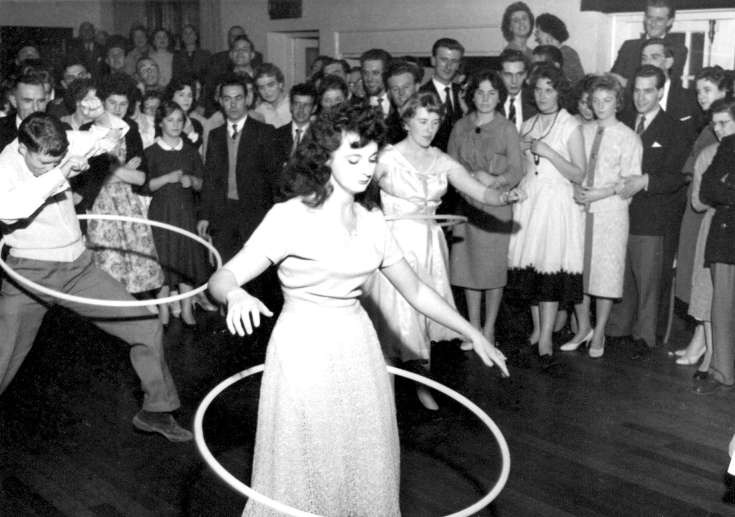 The Slaugham Archive
Hula Hoop arrives in Handcross
The Hula Hoop craze reached Handcross in 1958 and the annual Poppy Day dance organised by the British Legion included a Hula Hoop competition, as well as the regular beauty queen contest (see
picture #1075
).
I could only recognise Rex Ray, really excelling himself with the hoop, and our uncle, Joe Ray, standing immediately behind him partially hidden.
Rex has added a few more names. Just to the left of the head of the girl nearest to the camera is Lennie Ball, and just above her head, is bearded and smiling Mick Green. On the extreme right, standing on a chair in front of the doorway seems to be Ivor Verlander.
Please can anyone name some of the others?
The Large Version shows a poster of the dance.
During the years leading up to WWII, dances were held regularly in the Handcross Parish Hall. It seems that every village organisation vied to raise funds from such events. Click on Open Document to view four newspaper cuttings of that era.
The first was organised by the Orchestral Society and prizes were awarded for the best fancy dress. One of the contestants chose a somewhat controversial subject to portray, and another man dressed so convincingly as a witch, that he won the ladies prize!
The second was organised by the Junior Imperial League, the forerunner to the Young Conservatives. During the interval a Tory agent gave a speech on current affairs, effectively, I guess, a party political broadcast. I bet that went down a bomb!
The third was organised by the football club and, rather unusually, combined a whist drive and dancing to the Gay Cavaliers.
View Large Version
Open Document
Picture added on 27 July 2014 at 19:13
Comments: