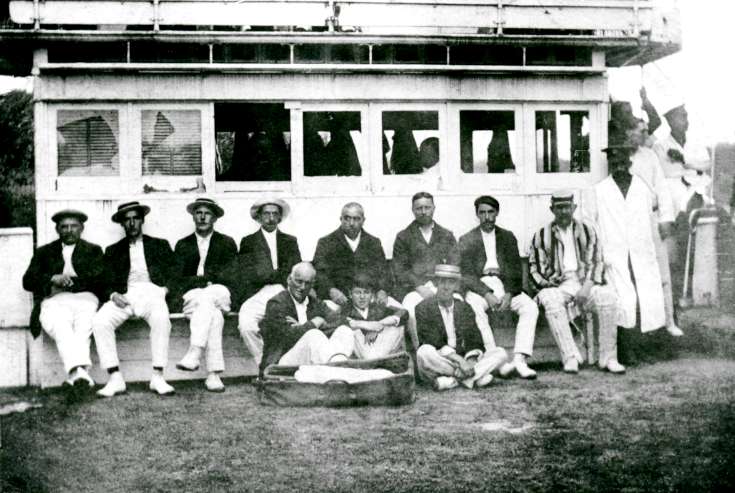 The Slaugham Archive
Pease Pottage cricket team 1915
With a traditional cricket bag in pride of place before them the Pease Pottage cricket team pose for a photograph with their umpire. Unfortunately the photograph, which is in a very tatty state with many creases, has no mention of the names of the team members.
However, it is safe to assume that the umpire, wearing his full uniform under his white coat, was based at the tented army camp located opposite the Black Swan during the early years of WWI.
The star of the photograph, though, is the cricket pavilion, at one time a horse-drawn tram which during its active life was in service on the streets of London. Local benefactor, Jack Goddard of Tilgate Forest Cottage, arranged for the tram to make its final journey from London to Pease Pottage.
On the right of the picture are the curved stairs with handrail to enable the players access to the upper floor. It is not clear from this picture, but the tram was an open-top with no roof.
My father, Roger Ray, who played regularly for the team before WWII, once told me that when the tram came to an end of its useful life some of the players set fire to the predominantly wooden structure and later pushed it into the woods nearby. I have no idea if it is still there, or whether the iron chassis was sent for recycling together with other vehicles by the car breakers who now operate their business from the old cricket pitch.
Click on Large Version to view the tram, or one very similar, in operation in London and being pulled along the rails by two fine-looking horses.
View Large Version
Picture added on 27 July 2014 at 19:42
Comments: