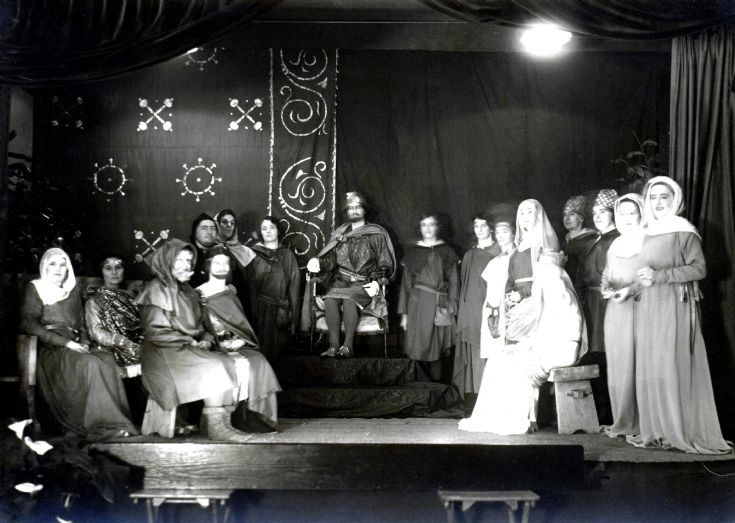 The Slaugham Archive
Shakespeare Society "The Winter's Tale"
After two years rehearsing, in 1953 the Handcross Women's Institute Shakespeare Society was ready to put on their latest play "The Winter's Tale". But with just two days before the first of two performances, disaster struck when Mrs H. Weller, who was due to play two of the characters, announced that she would be unable to take part because of a recent bereavement.
Still the play, in aid of British Red Cross funds, went on as planned with Mrs Amy Shearlock and Mrs Kate Sands taking over those two parts as well as their own.
Mrs Maud Messel directed, Miss Daphne Dengate produced, and Miss Louisa Jackman was the secretary.
Others taking part were Mrs Ethel Jeffrey, Mrs Ingebord Boniface, Mrs Lily Jakes, Miss Phyllis "Mollie" Dengate, Miss Mary Johnson, Mrs Ethel Boakes, Mrs Weston, Mrs Vi Johnson, Mrs Bailey, Mrs Edith Biggs, Mrs Cook, Mrs F. Tayman, Mrs Ena Tulley, Mrs Atkinson, and Mrs Funnell.
Costumes were arranged by Mrs Dorothy Mills and Mrs Dorothy Palmer. In charge of lighting was Charlie Moon, and stage effects were by Gerry and Roger Ray. Seating was organised by Mrs Poile. Incidental music was played by Mrs Bradbrooke and Percy Arnold.
The Large Version shows four of the cast being, from the left, Mrs Farrow "Gaoler", Mrs Edith Biggs "Emilia", Miss Louisa Jackman "Paulina", and Mrs Gladys Toogood "Camillo".
Click on Open Document to read a newspaper cutting of the performance. I think the cine film, taken by my father, was somewhat less than successful because I can never remember seeing it on the screen!
View Large Version
Open Document
Picture added on 11 August 2014 at 20:11