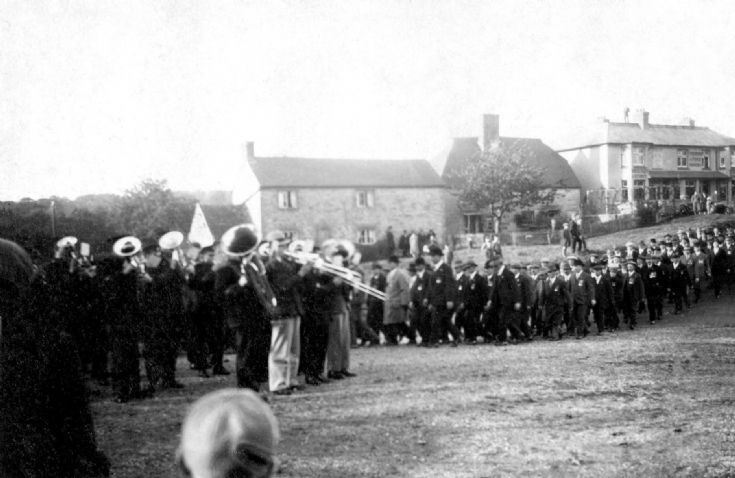 The Slaugham Archive
British Legion parade at Slaugham
There are no notes accompanying this tiny photograph, but Handcross Brass and Reed Band are playing outside Slaugham church as a long column of ex-servicemen are marching about five abreast to the church. The large turnout was obviously organised by the British Legion, probably for the Remembrance Day service, and most are wearing their medals.
The Handcross Band was reformed in 1946 after a break of nearly eight years due to the war.
It was common in those days for the band and serviceman, often accompanied by the scouts and guides, to march to Slaugham from Handcross through Slaugham Park drive.
A close inspection of the photograph reveals a man standing on the roof of the Chequers, but I find it impossible to suggest any reason why he should be there!
The Large Version is a page from the parish magazine of November 1941 listing five parishioners who had lost their life, and another 192 still serving.
In May 1944 the listing was updated and those killed had risen to 13, and those still serving to 235. These numbers surprised me; I would have guessed that the total from the four villages would have been somewhat smaller.
Click on Open Document to view the page.
View Large Version
Open Document
Picture added on 13 August 2014 at 11:32
Comments: