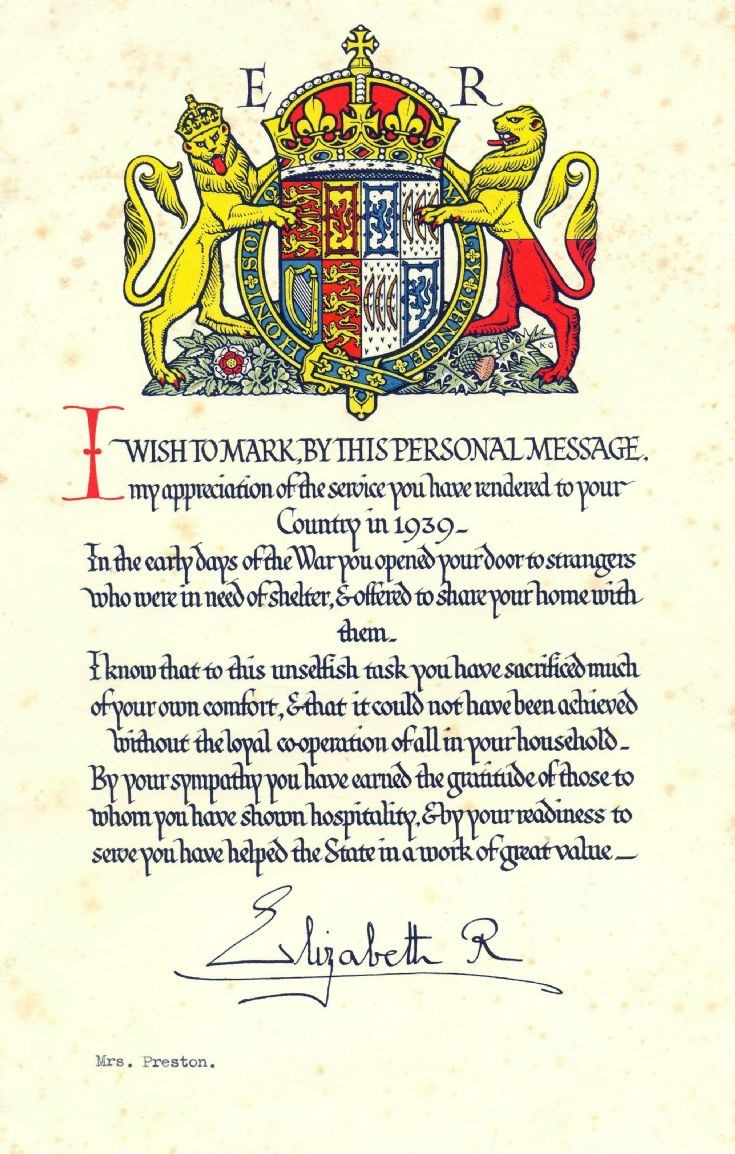 The Slaugham Archive
Slaugham Park evacuees
In common with many other households in the parish, the Preston family at Slaugham took in evacuees from London during WWII. It seems that this selfless act was not officially recognised by the country until after Queen Elizabeth had ascended the throne. The message from the Queen presented to Mrs Gertrude Preston is shown above.
In 1941 the Rector of Slaugham from 1929 to 1946, Francis E. S. Jacomb-Hood, was appointed the local Food Organiser and plans were made in the event of invasion, at which time church bells would be rung.
Mrs Gertrude Preston of Slaugham Park completed and signed her form, but, in the event, the invasion did not take place and the bells remained silent.
The Large Version shows a copy of the form.
Plans for evacuation of high-density housing, particularly of children, were made several months before the official start of the war, and the "Document" shows a leaflet distributed in January 1939 to residents in the "safe" areas of Sussex.
The outline of the scheme was issued of behalf of the Tory government led by Neville Chamberlain. However, the leaflet, entitled with the somewhat sinister title "Transfer of Population in Times of War", came from the Minister of Health, Walter Elliot Elliot of the Scottish Unionist Party. No, that is not an error, his second name was the same as his family name!
It was a different world then.
View Large Version
Open Document
Picture added on 13 August 2014 at 11:36