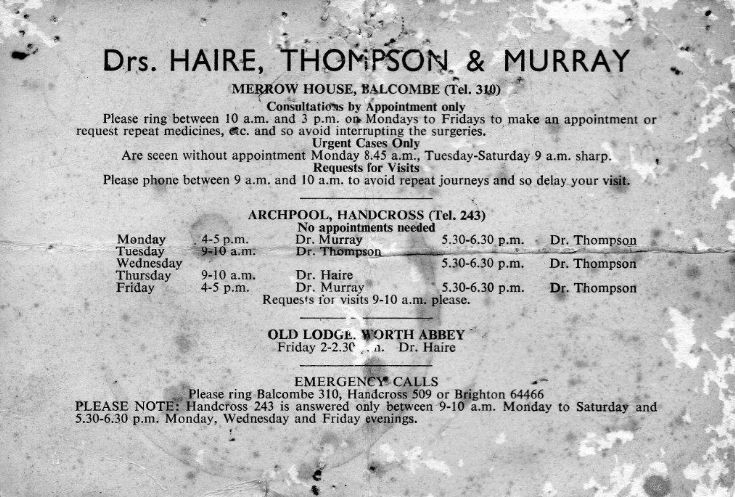 The Slaugham Archive
Handcross doctors' surgery
Arriving in Handcross in 1971 to take up my new position in the Police House, I prudently acquired details of the village surgery located at Archpool, with doctors Thompson, Haire, and Murray in attendance. The notice has remained pinned up in the house ever since; hence the somewhat distressed appearance!
Today Archpool has a brick wall running along the front of the building, but before the war there was a length of wrought-iron fence and a gate. The ironwork was expertly made by Mr Sharpe who worked for local engineer and blacksmith, George Broadbridge.
In 1925 Dr Greville Tait joined Dr Wood and Dr Page in the practice, but in 1957 he suffered a stroke and had to cease practicing. Around this time, his son, Dr Jimmy Tait, joined the practice.
At the start of the war the fence was surrendered for the war effort, as was most of the exterior ironwork in the village, but the gate was nowhere to be found. However, when the war was over, Dr Tait miraculously found the gate in a hiding place elsewhere on the property and it was triumphantly reinstated at the front of the property!
A photograph of Archpool from about 1910 can be seen at
picture #423
.
View Large Version
Picture added on 09 October 2014 at 12:26
Comments: