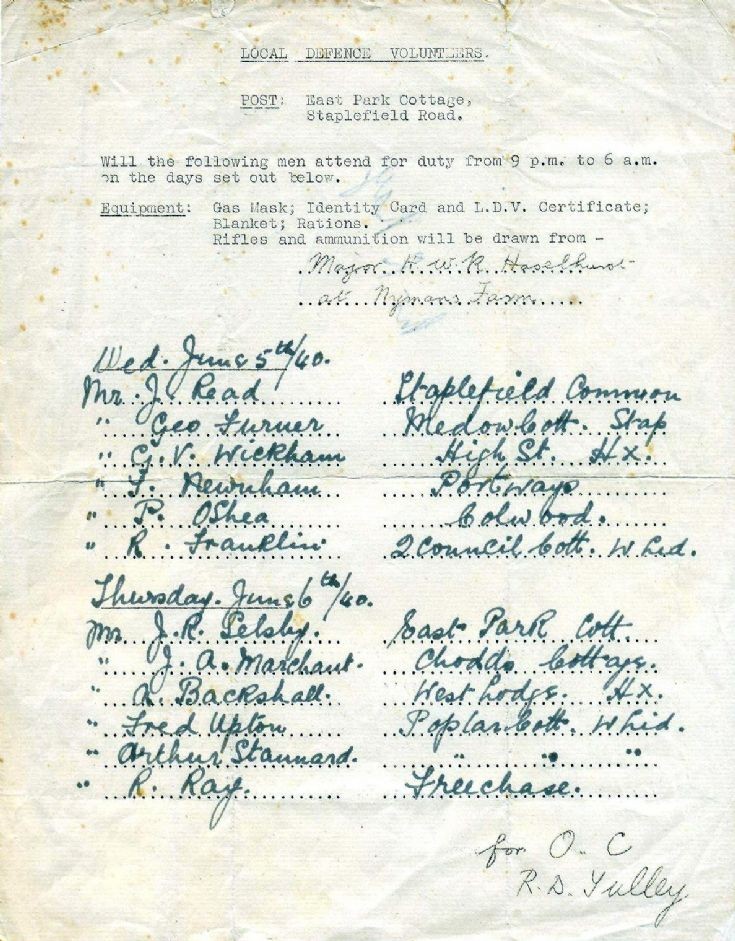 The Slaugham Archive
The Local Defence Volunteers
Although the Second World War had been declared on 3rd September 1939, nothing much took place in the way of hostilities until the following Spring. This period became known as the "phoney war".
However, in the three months April to June 1940 the troops of Nazi German swiftly advanced into Belgium, Holland, Denmark, Norway, and France easily overcoming any resistance they met. In July, the Channel Islands were occupied, and it was thought most likely that an assault on mainland Britain would take place at any time.
It was clear that additional defence was imperative and the Local Defence Volunteers (LDV) was formed on 25th May 1940.
The above document was issued in early June to inform the local volunteers to attend for basic training to defend the islands. The situation was perilous as can be demonstrated by the hours that the men were asked to attend.
The men are listed here to assist those using the search facility to find relatives.
The Office in Command was Ralph Tulley of Handcross, and equipment was to be drawn from Major H. W. R. Haselhurst at Nymans Farm.
The volunteers were, from Staplefield, J. Read, and George Furner.
From Handcross, George Wickham, J. R. Selsby, J. A. Marchant, and Alfred Backshall.
From Warninglid, Tom Newnham, Pat O'Shea, Fred Upton, Arthur Stannard, Roger Ray, and Ron Franklin (see
picture #1062
).
Just two months after the LDV was introduced it was replaced by the Home Guard which was formed on 23rd July 1940. No doubt former members of the LDV joined up with the Home Guard and duly received their khaki army uniform.
Picture added on 14 October 2014 at 20:48
This picture is in the following groups
Military
Comments: