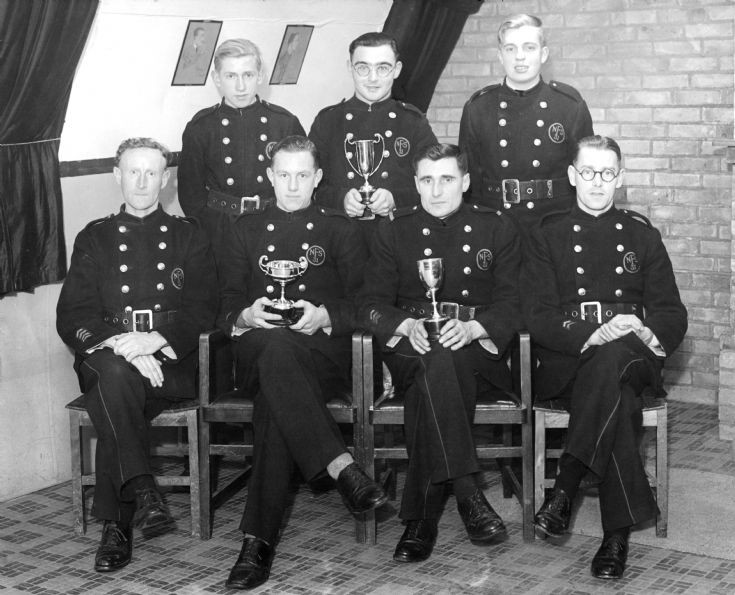 The Slaugham Archive
Handcross Auxiliary Fire Service 1939-45
In the early 1900s a horse-drawn fire engine was in operation under the auspices of the Slaugham Parish Council. This was operated by volunteers and the fire engine was drawn by horses loaned by Mr Snelling. However, on at least one occasion, the engine was hauled all the way to Pease Pottage by the firemen themselves to put out at fire at Tilgate Forest Lodge. This fire service was withdrawn in 1923 and any fires thereafter were attended by brigades from Crawley, Haywards Heath, and Horsham.
At the start of the 1939-45 war, Handcross Auxiliary Fire Service was formed with Leading Fireman Reg Leppard in charge. This service was part of Fire Force 31, a division of the National Fire Service, as indicated by the badges on their uniforms. Reg had already had two years experience in the London Fire Brigade, before moving to Handcross to assist his father in the boot and shoe repair business (
picture #454
).
The old Fire Brigade H.Q, which the Girl Guides had used since 1923 when the earlier fire service was disbanded, was once again the fire station with four bunks in a small room at the rear;
picture #444
shows the fire service headquarters located just off the High Street between Les Moore's Devonshire Dairies and Lynwood. The front section housed a fire tender and trailer pump.
The original fire tender had been a converted 25 hp Vauxhall car with a box body in place of the rear seats and boot. Apparently it was very fast, but very unstable!
Later, this was replaced by an Austin purpose-built tender weighing about 1.5 tones and a trailer pump which was a Coventry Climax powered by an Austin 7 engine. The trailer pump could be detached from the trailer and carried, with difficulty, across fields.
Apart from fighting incendiaries and fires caused by oil bombs and ordinary bombs, their biggest job during the war was when the Halifax bomber crashed on High Beeches house (
picture #28
). The Handcross pump was the only one in attendance as support was withdrawn from Haywards Heath on the grounds that nothing could be done to save the mansion.
The station was manned for 2 or 3 nights a week on a rota system with fire services from Balcombe and Warninglid. Apparently the latter service was operated entirely by members of the Godsmark family.
Those appearing in the photograph are, in the back row, from the left:- Ray Marchant, "Tanker" Klein (evacuee from London), Ernie Arnold.
Seated:- Bill Bailey, Doug Wheatland, Reg Leppard, Pat Tester.
Other members who served in the fire service during the war were, Reg Green, Gerald Hutchings, and Mrs Dorothy Mills (telephonist).
The above information was kindly supplied by Ernie Arnold to assist my father in writing one of his books.
View Large Version
Open Document
Picture added on 03 November 2014 at 20:04
Comments: