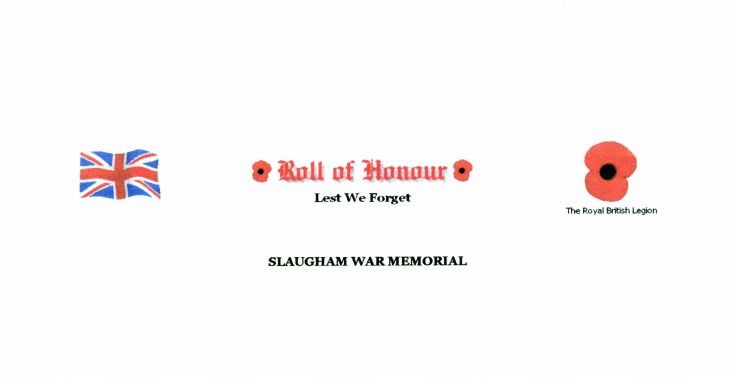 The Slaugham Archive
Slaugham Roll of Honour for the Great War 1914-18
A tablet was placed in St Mary's church, Slaugham in 1920 to honour the memory of those from the parish who did not survive the Great War of 1914-18. See
picture #599
.
As it is just a couple of days before Armistice Day 2014, and 100 years after the start of the war it is an appropriate time to remember those who did not return to their families.
I am obliged to John Skinner for informing me that a full list of their names and comprehensive personal details of each is now available on the internet. It can be found at www.roll-of-honour.com/Sussex/Slaugham.html
To assist those using the search facility to research their family, the 49 who are honoured are listed below.
Frank AGATE, Frederick ANSFIELD, Charles Elles Stuart BEATSON, Frederick William BLAKE, Harold A. BOND, Albert Edward BRETT, Henry Nelson BROWNING, John W. CAIN, William Luckens CANFIELD, John Thomas CONSTABLE, Richard DANCY, Frank ELLIS, Albert John EVERDEN, Francis FILLARY, Ernest FUNNELL, Walter Stephen FUNNELL, Harry GAYLER, Herbert William HARDING, William HAYLOR, Albert George HOBDEN, Albert HOLE, Arthur HOW, Richard HYGATE, Leonard Frederick JAKES, Kenneth Lawrence JAKES, George Avis JOHNSON, Ernest C. KNIGHT, William LANGLEY, Thomas Frank MESSER, Michael Ernest NEWMAN, Douglas E. PANKHURST, Frederick William RICE, William RICE, James SAYERS, Joseph Harold SIMMONS, James Eskins SJOQUIST, Algernon Lindsay Eric SMITH, Charles STEVENS, William STEVENS, Herbert Clark TESTER, William Joseph THORNDIKE, James TOMPSETT, Harry TULLY (TULLEY), George Herbert TURVILL, Percy TURVILL, George Alfred UPTON, Percy John Warden WALDER, Albert George WOOLLVEN, Charles Morris WOOLLVEN.
My own research suggests that the details for Harold A. Bond may be incorrect. I suspect it should refer to Harold Andrew Bond, who, in the 1911 census, was shown as the 33-year-old innkeeper of the Half Moon pub in Warninglid.
The names of those from Staplefield who did not return safely are shown with
picture #294
. So far as I am aware their personal details are not available on the internet except for William Walter Mitchell who is also included on the Roll of Honour for Cuckfield..
Picture added on 04 November 2014 at 15:24
This picture is in the following groups
Military
Comments: