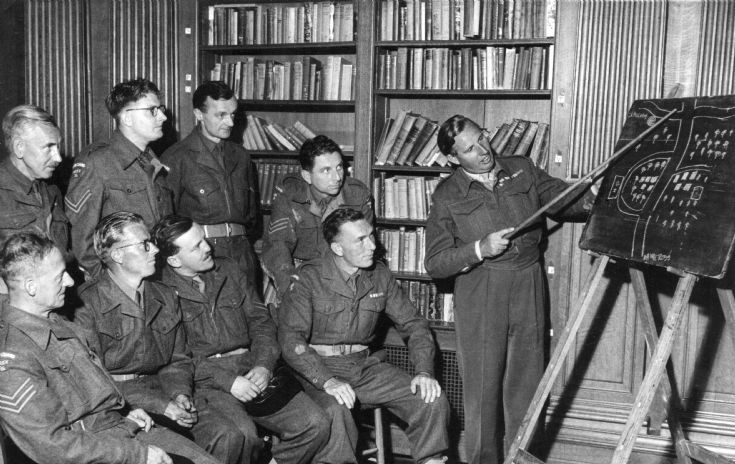 The Slaugham Archive
Handcross Home Guard tactical training
The "wartime" Home Guard had been stood down in 1944, but in 1952 the 26th Sussex Home Guard Battalion was formed and comprised companies based at Crawley, Rowfant, and Handcross.
"C" Company at Handcross was based at Ashfold School on the Horsham Road just over a mile outside of the village.
The Company was only about 10 strong but trained regularly every fortnight The photograph shows a lecture on tactics conducted by the Officer-in-Charge, Capt. Dick Sykes, who had been invalidated out of the army, but was then a teacher at Ashfold School. Sitting closest to the blackboard is Joe Ray, with his brother, Roger Ray, standing behind him.
Their shoulder badges say "Home Guard Sussex 26".
The blackboard map shows Slaugham in the top right corner, "HQ" at centre left, and Handcross at the bottom. I think the "Wheatsheaf" crossroads is the subject of the lecture, but their overall aim was protecting the Warninglid Ridge from attack from the south.
Click on Open Document to view a newspaper cutting from Crawley Weekly News. Picture "C" shows Captain Sykes leading an attack from the front, but methinks the men are rather statuesque! Picture "D" is more realistic showing the men using the cover afforded by the WWII tank traps at the junction of Horsham Road and the lane to Carterslodge.
Open Document
Picture added on 11 November 2014 at 10:50
This picture is in the following groups
Military