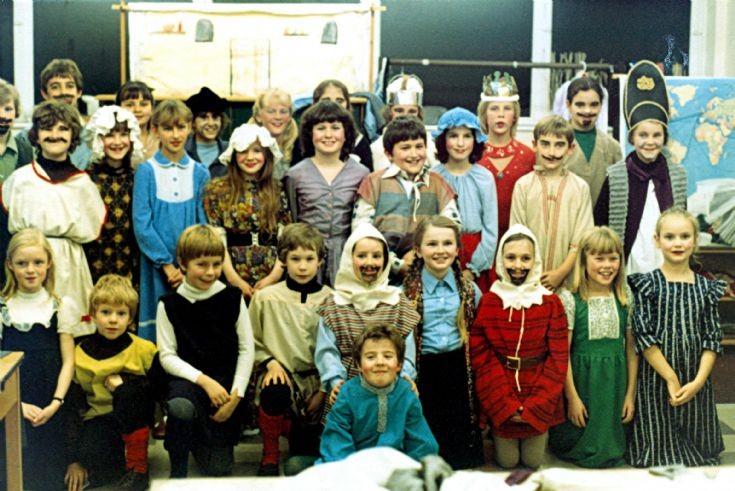 The Slaugham Archive
Warninglid School
Warninglid School's production for Christmas 1980 was "Rumplestiltskin" by Brothers Grimm.
There is a numbered version of the photograph available by clicking on Large Version.
1 Fraser Irvine, 2 Mark Pratt, 3 Caroline Russell, 4 Karen Matthews, 5 Amanda Cole, 6 Tracey Gibson, 7 Tina Rogers, 8 Samantha Edwards, 9 Claire Tyler, 10 Lucy Thompson, 11 Jason Slater, 12 Nicola Baillet, 13 Jane Strong, 14 Lavinia Price, 15 Tiffany Pearce, 16 José Martinez, 17 Sarah Blake, 18 Mark Bradley, 19 Melanie Cherry, 20 Stephen Handley, 21 Paul Williams, 22 Nicholas Forsyth, 23 Janette Larkins, 24 Jessica Jones, 25 Tracey Edwards, 26 Fiona Cole, 27 Elizabeth Postill, 28 Mark Elves.
Click on Open Document for a black and white version of the photograph. This is enclosed solely to include Damon Jones who appears on the extreme left but who was excluded from the coloured version! The document also includes a copy of the programme.
With many thanks to Don and Yvonne Sinclair for helping with the names.
Please can anyone add more names or correct those above?
View Large Version
Open Document
Picture added on 12 November 2014 at 12:07