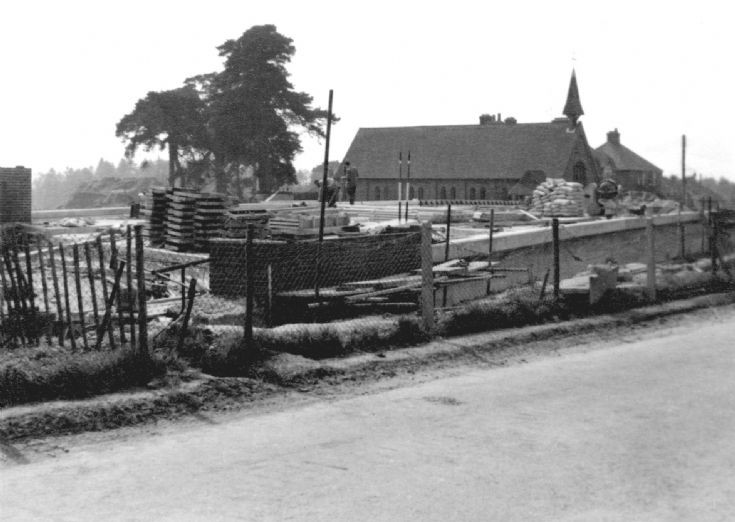 The Slaugham Archive
The new bridge, Handcross
Before you read any further, you may wish to ponder what you are looking out in this photograph of All Saints Church, Handcross.
The large concrete structure is indeed the new bridge over the A23, but the cameraman is standing on a road that disappeared immediately the bridge was completed. One of the men is operating a three-legged theodolite, and there is a huge pile of cement bags and a mixer on the right. There seems to be much work still to do.
The avenue of Scots Pine trees indicate where the Slaugham Park lane used to meet the Horsham Road.
Some time ago I came upon a series of aerial photographs of Southern England. After much enlargement I discovered that, by good fortune, the flight had been made soon after the contractors had built an additional road to the north of the existing Horsham Road so that they could construct the bridge without interference from traffic. The Large Version shows the poor-quality image taken in about 1957.
Produced around the same time, an undated map shows the temporary "loop", and the extent of the excavations that had been completed before work was brought to a halt by the start of the Second World War. Click on Open Document to view the map.
View Large Version
Open Document
Picture added on 12 November 2014 at 12:21