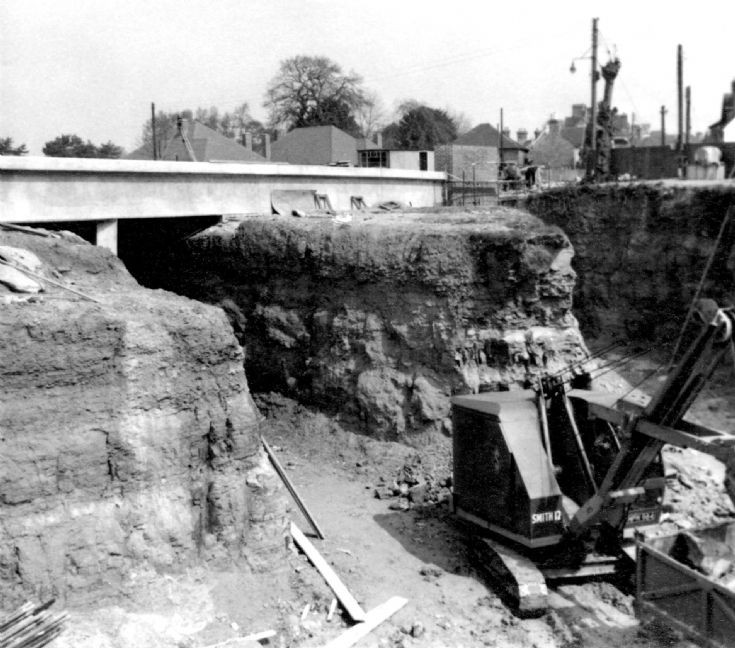 The Slaugham Archive
The new bridge, Handcross, with excavator
This photograph was taken from a position very close to All Saints Church, Handcross and shows that the excavator has removed a section of the causeway so that the three central supporting pillars of the bridge could be built. See
picture #1303
.
Note that the railings along the edge of the bridge have not yet been put in place.
During the period from 1939 when the project was postponed to when the work was recommenced in the mid-1950s, the children of Handcross were provided with a fantastic adventure playground. This comprised two cuttings, called "dips", on either side of the Horsham Road, and nearby mountains of topsoil which were called "lumps".
I can recall two lumps, but perhaps there was another.
There was one about 100 yards south of the school on the west side of the road, and the other was between the Slaugham Park drive, close to the allotments, and the southern dip. The last-named lump was enthusiastically excavated by the children with spades borrowed from their garden sheds. Six-foot cube holes were covered by rusty sheets of corrugated iron supported by branches, with a layer of earth on the roof. Attempts to build fireplaces usually failed due to the lack of draught to support a fire, often leading to a speedy evacuation by coughing children with smarting eyes.
I recall that two of the huts were connected by an underground pipe for use as a telephone. This was decidedly more successful than the fires!
I have only just realised that one of the lumps is visible just to the left of the pine trees in
picture #1301
. It looks even more impressive than I imagined!
Picture added on 12 November 2014 at 14:42