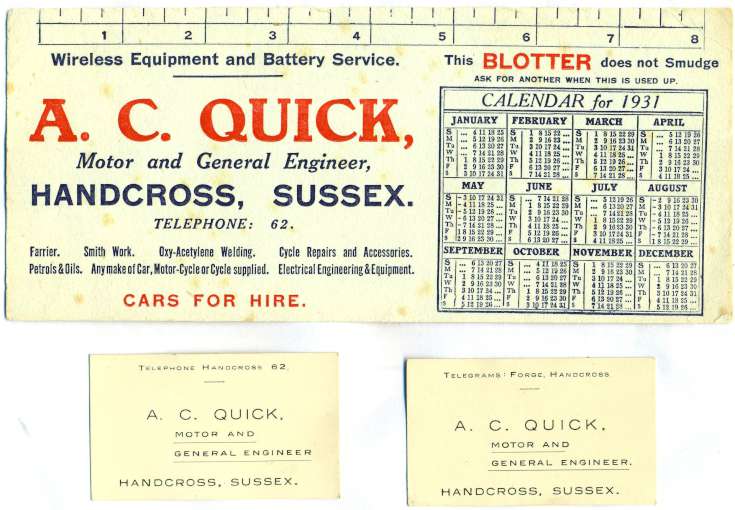 The Slaugham Archive
Quick's Garage blotter
This blotter, incorporating a calendar and a ruler, was a promotional gift from Archie Quick's garage in Handcross. The business card tells us to ring Handcross 62 if you wish to speak with Mr Quick.
It is interesting to note that one of his many specialist services included wireless equipment and battery service. I can recall visiting the garage in the 1940s to take accumulator batteries to be charged up. This was done on a bench at the back of the shop where several sets of low-voltage cables were ready to attach to any lifeless batteries, after being topped up with distilled water if required.
I wonder, though, what the wireless equipment service entailed. The BBC opened its first transmission on station 2LO on 14th November 1922, and I presume Mr Quick sold wireless sets to receive these programmes.
The blotter also advises "any make of car, motor-cycle, or cycle supplied." I do not know have many cars Mr Quick sold, but my father, Roger Ray, bought a new Ford Corsair V4 from him in about 1966.
The blotter is more than useful at the present time as the days for next year, 2015, fall on the same days of the week as 1931. It is even more useful if you print it off on blotting paper!
Picture added on 22 November 2014 at 14:27