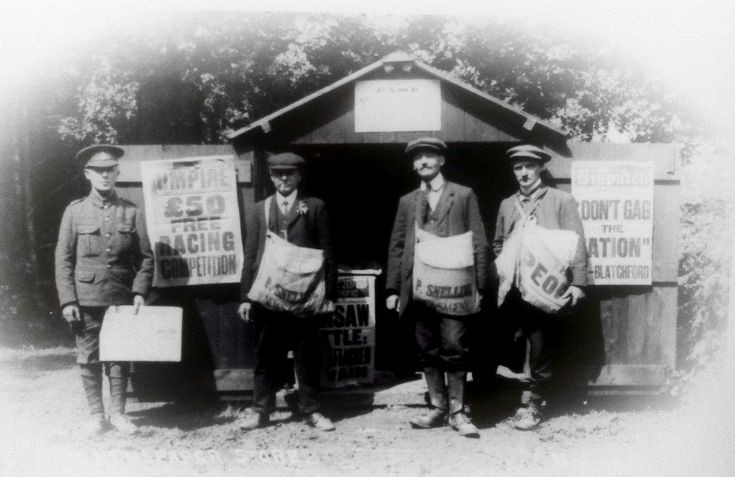 The Slaugham Archive
Pease Pottage camp newspaper store
During the First World War of 1914-18, a tented army camp was located in Pease Pottage opposite the Black Swan, and adjacent to the former entrance to Parish Lane.
The sign above the door says "Camp Newspaper Store" and gathered together are some "paperboys" ready to make a delivery. Two are holding P. Snelling newspaper satchels and the other is holding a bag from The People on Sunday.
The half-hidden poster almost certainly refers to the third of three battles for Warsaw between the occupying Russians and the invading German army. The battle started on 13th July 1915, but on 5th August the Russians pulled out of the city, allowing the Germans to capture the city without a fight.
The Weekly Dispatch's poster of 25th July 1915 reads, "Don't gag the nation! Blatchford". Robert Blatchford was an outspoken socialist campaigner and journalist. During the war, he wrote to someone who had written to him, "I am sorry. I cannot help it. You want peace, but you cannot have peace without victory. The struggle with Germany will not end with the present war, and we may some day have to fight Germany single-handed."
The Large Version shows a close up.
View Large Version
Picture added on 26 November 2014 at 17:50
This picture is in the following groups
Military