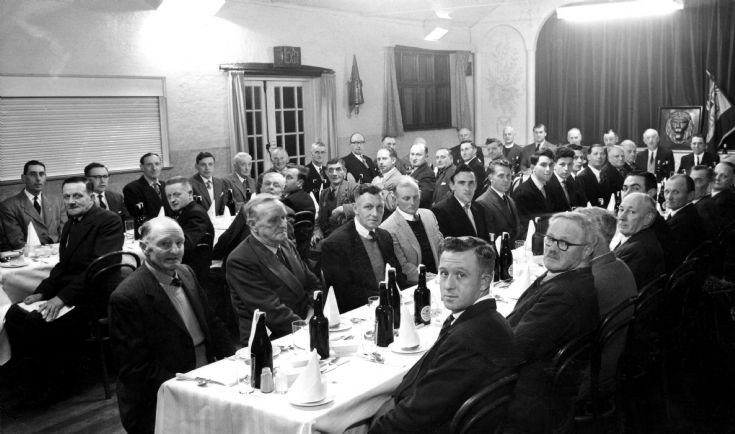 The Slaugham Archive
British Legion dinner and entertainment
The 1954 annual dinner of the Handcross and District British Legion is just about to commence in the Parish Hall. As usual it is well attended.
In previous years the beer has been poured from jugs by waitresses, but this year bottles of Watneys Brown Ale have been supplied. Clearly the festivities have yet to start as the paper seals covering the screw tops are still in place!
Those I can name are:
From the left, nearest row: 2 Arthur Farrow.
Second row: 1 Bill Baigent (Shelley Farm), 4 Johnny Pearce, 8 David Mitchell, 10 Arthur "Mickey" Mitchell.
Third row: 1 Archie Mills, 2 Ted Cosens, 3 Ebbie Robins, 5 Bill Wheeler, 6 Ted Boniface, 7 Sid Sargent, 10 Johnny Gratwicke.
Far row: 1 George Cooper, 2 Frank Hawksworth, 3 Bob Dench, 4 Vic Newnham, 6 Gordon Alexander.
Top table: 2 Rev Edward Bradbrooke, 4 Alan Hilder (Cottesmore School), 5 Col. J. Raymond Warren, Col. Giles Loder, 7 Roger Ray.
Please can anyone offer more names?
A Large Version is available.
Click on Open Document to view three newspaper cuttings of the era relating to the British Legion. The members attending the annual meeting in the Parish Hall were entertained by several artistes, including the magician, Raydini, and Cal McCord, a cowboy from the BBC radio serial "Riders of the Range".
View Large Version
Open Document
Picture added on 20 December 2014 at 21:45