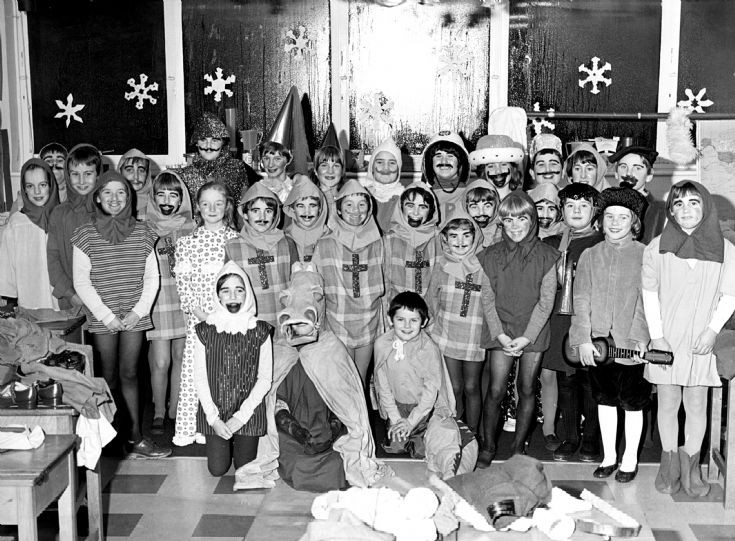 The Slaugham Archive
Warninglid School at Christmas 1981
It's Christmas 1981, and pupils from Warninglid school are putting on a production of "Sir Spence and a Dragon called Horace". At the same show the infants entertained the audience with "The Animals Christmas".
A numbered version of the photograph is available by clicking on Large Version.
1 Robert Townsend, 2 Mark Bradley, 3 Sammy Townsend, 4 Tina Rogers, 5 Nicola Baillet, 6 Elizabeth Postill, 7 Tiffany Pearce, 8 Juliet Matthews, 9 Jose Martinez, 10 Unknown, 11 Neil Humphrey, 12 Sandra Smith, 13 Alfie Tighe, 14 Katherine Larkins, 15 Paul Williams, 16 Melanie Cherry, 17 Unknown, 18 Unknown, 19 Lisa Holt, 20 Janette Larkins, 21 James Cherry, 22 Thomas Cresswell, 23 Unknown, 24 Karen Matthews, 25 Mark Elves, 26 Fiona Cole, 27 Unknown, 28 Tracey Edwards, 29 Unknown, 30 Jamie Tighe.
With many thanks to Don and Yvonne Sinclair for helping with the names.
Please can anyone add more names or correct those above?
Click on Open Document to view the show programme.
View Large Version
Open Document
Picture added on 24 December 2014 at 10:48