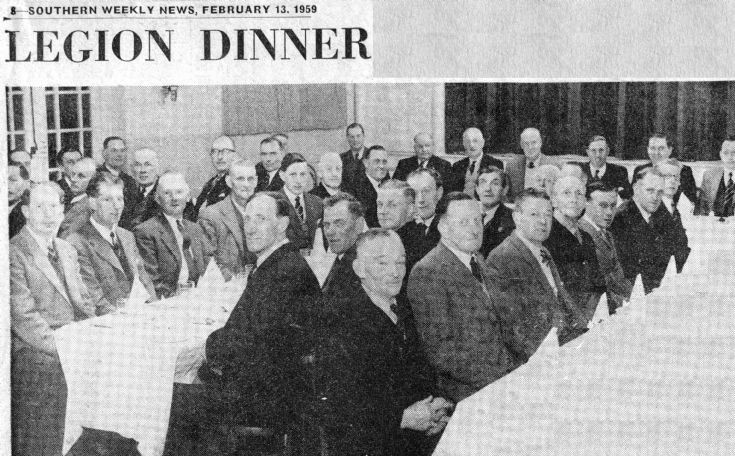 The Slaugham Archive
Handcross British Legion dinner 1959
The Handcross and District British Legion held their annual dinner in the Parish Hall.
The number of members seems somewhat smaller than earlier years, and perhaps this is not surprising with few of the First World War veterans being left and many from the Second World War moving on, in one way or another.
Those I can identify are:-
Nearest table: 1 Frank Jeffrey, 2 Archie Mills.
Middle table, nearest: 1 Bob Dench, 4 Arthur Brown, 5 Bill Wheeler.
Middle table, facing: 1 Ted Boniface, 3 Gordon Alexander, 4 Charlie Pennifold, 5 Vic Newnham, 6 John Robins.
Top table: 1 Mr Ingall (Cuckfield BL), 2 Ralph Tulley, 3 Thomas Dundas, 4 Alan Hilder, 5 Dick Sykes, 6 Roger Ray, 7 Martin Richards.
On the far table (see the cutting attached): Joe Ray (elbow on table), and Arthur "Mickey" Mitchell (looking pleased as his glass is refilled).
Click on open Document to view newspaper cuttings of the dinner.
Open Document
Picture added on 26 December 2014 at 10:44