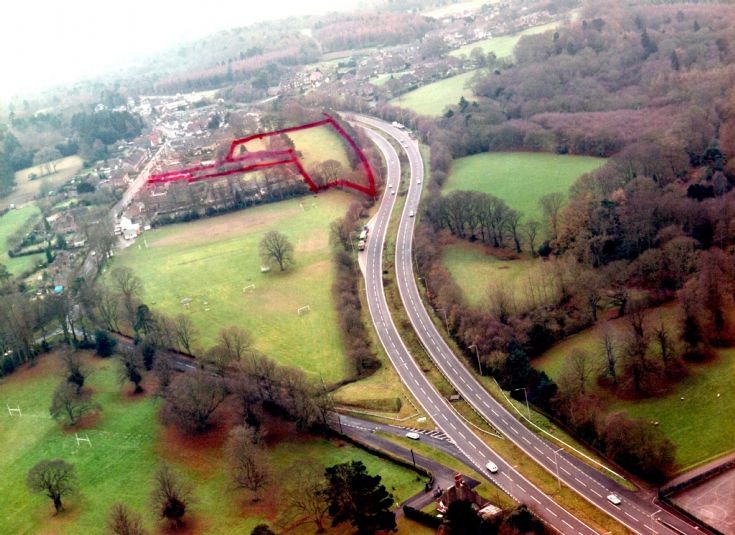 The Slaugham Archive
Aerial view of Handcross (1)
As I was returning from Kansas the Boeing 747 banked at 200ft to line up for the runway at Gatwick and I managed to take this shot of Handcross.
Actually the above is a outright lie. I flew in from Majorca.
With the new A23 wending its way from the primary school in the lower right corner towards the bridge just visible in the distance, the residents of Handcross probably assumed that no major construction works would be made for a few decades.
Soon, however, the A23 would be replaced by a new road constructed behind the school and many of Hoadlands Cottages, and virtually all of the dual carriageway seen here would be torn up. The new medical centre was built on the site of the old A23 just beyond the slip road to the village.
The driver of the white van heading south would be able to spot a rectangular construction in the central reservation. This was built to allow natural light to enter the pedestrian subway. To the left of the construction can be seen the cutting to descend into the subway, and to the right an ascending path led to the school and neighbouring cottages. This is now all filled in. See
picture #512
.
On the left of the recreation ground now stands the sports pavilion with pétanque terrain. Standing this side of the Fountain Inn is the small sports pavilion, which was soon to be demolished.
I have no further details of this photograph but clearly it has been used to plot in red ink the location for the new housing development of The Forge and Windmill Platt. The building of Smugglers End would come later.
Just to the right of the lone tree in the recreation ground is a lay-by. My father, Roger Ray, Chairman of the Parish Council, received a tip-off that a wooden park bench had been placed on the lay-by. He called me to act as a minder and we drove round to the lay-by where we found a scruffy youth sitting on the bench selling rugs. He said he had been dropped off by a Transit van early in the morning and would be picked up 9 hours later.
He was told that if the bench was not returned in 10 minutes, the police would be informed that it had been stolen. Within seconds he was seen dragging the bench to the other side of the recreation ground!
Two more photographs from the series can be seen on
picture #1342
and
picture #1343
.
The Large Version allows a close up.
View Large Version
Picture added on 04 January 2015 at 17:01