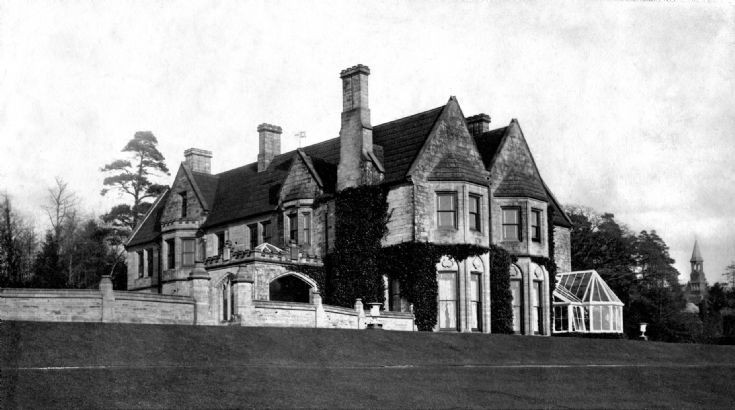 The Slaugham Archive
High Beeches house and clock tower
High Beeches house looks splendid in this picture with a stylish conservatory added to the south side overlooking the gardens. In the distance can be seen the clock tower added to the old coach house by Lt. Col. Giles Harold Loder to commemorate his horse, Spion Kop, winning the Epsom Derby in 1920. It is not recorded if the horse was pleased by this gesture.
In July 1898 a certain William Higginbotham sent a letter to Gerald Loder and a transcription can be viewed by selecting Open Document. It may be desirable to read the following before tackling the letter.
William's sister, Elizabeth Higginbotham, married Gerald's grandfather, Giles Loder (1786-1871), in 1817 and one of their nine children was Sir Robert Loder who purchased the High Beeches estate in 1849.
Sir Robert Loder married Maria Busk and three of their ten children created major horticultural masterpieces. The eldest, Sir Edmond Loder purchased Leonardslee in 1849 from his parents-in-law, and he and his descendants continued to run the gardens until it was sold in 2010, and became closed to the public.
Another son, Wilfred Hans Loder, took over High Beeches when his father died in 1888, and Wilfred's son, Col. Giles Harold Loder, continued to run and develop High Beeches from 1906 until he died in 1966, unmarried.
The other son was Gerald Loder (to whom the attached letter was sent) who established the famous Sussex gardens at Wakehurst Place, now managed by Kew Gardens.
The letter goes on to explain in some detail how a vast fortune was created by William's brother-in-law and Gerald's grandfather, Giles Loder, by trading in Russia, starting with initial funds of just £25.
The Large Version shows a close up of High Beeches.
View Large Version
Open Document
Picture added on 11 January 2015 at 13:49