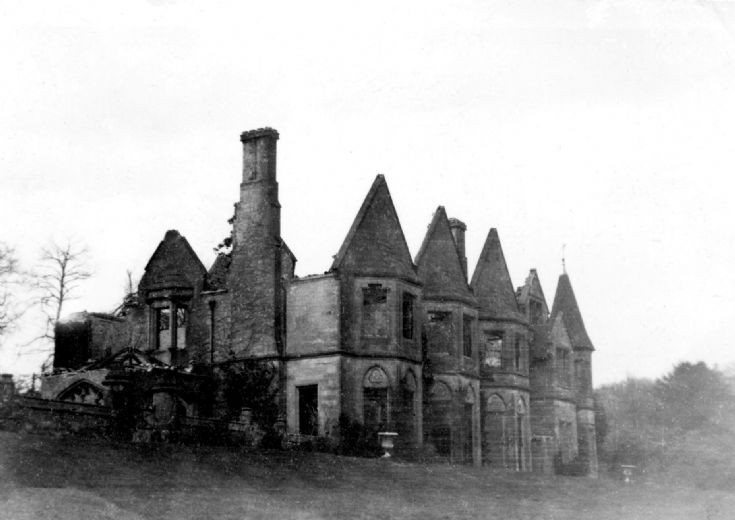 The Slaugham Archive
High Beeches house damaged by Halifax bomber
Life had been pretty good for Col. Giles Loder throughout the 20th century until that night in the early hours of 12th March 1943 when a stricken Halifax bomber returning from a raid to Stuttgart had to be abandoned by its crew. Without its crew, it found its way to High Beeches house where it caused substantial damage and triggered a fire which devastated the house and killed three staff.
There has much been written about the incident but I have now received a report with some authority compiled by Alwyn Philips and covering the whole operation. It makes fascinating reading.
According to official records the flight set off from Yorkshire at 19.15 hours and crashed in Handcross at 02.06 hours the next morning. (See PC Steve Message's Crashed Aircraft Report at
picture #28
). The flying time was therefore 6 hours 51 minutes, and not the 9 hours stated in the report.
Every report I have seen of the incident, says that the plane was "Canadian", but the report makes no mention of this other than stating that the navigator and wireless operator were both Canadian. Certainly 76 Squadron was British and in June 1943 it transferred from RAF Linton-on-Ouse to another airfield to allow Canadian squadrons to take over the base. However, I notice that PC Message described the Halifax as a "Plane attached to 76 Squadron RAF Linton-on-Ouse, Yorkshire". Is it possible that the plane was on some sort of loan or attachment from the Royal Canadian Air Force to the RAF?
I am much obliged to Clive Smith who sent me the report. He had already submitted a comment on the subject to
picture #28
.
The amateur 3" by 2" photograph above was taken soon after the incident and gives some idea of the sombre events of that night. The closest three conical structures remained in place for some time, but the next piece of façade and the final conical structure were soon pulled down, or fell down of their own accord.
The Halifax report can be viewed by selecting Open Document.
Open Document
Picture added on 11 January 2015 at 19:04
Comments: