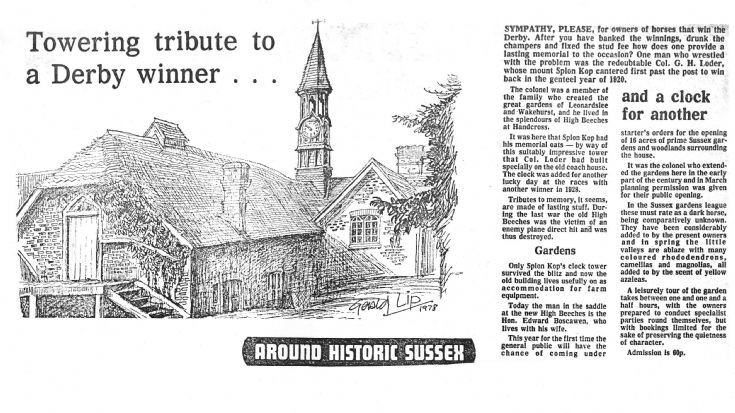 The Slaugham Archive
High Beeches gardens open to the public
In 1966 the High Beeches estate was sold by auction in numerous lots. The purchasers of the wild garden, the stable block, and other parcels of land and woodland including the site of the ruined mansion were Edward and Anne Boscawen. They built a replacement house in Front Meadow, where their daughter, Sarah Bray, and family now live.
Being experienced plants people, the Boscowens added considerably to the gardens in the early years and this culminated in the gardens being opened to the public in 1978. The newspaper cutting refers to the opening of the gardens and to the history of the clock tower built on the old coach house. More details of this with
picture #35
.
Click on Open Document for a better view of the above article.
The Large Version shows a front elevation and site plan of both the old mansion (c1849-1943) and the new house (built 1969). Although the two buildings are, of course, substantially different in materials and style, the architect of the new house has cleverly incorporated some of the exterior features of the old mansion.
View Large Version
Open Document
Picture added on 15 January 2015 at 15:53