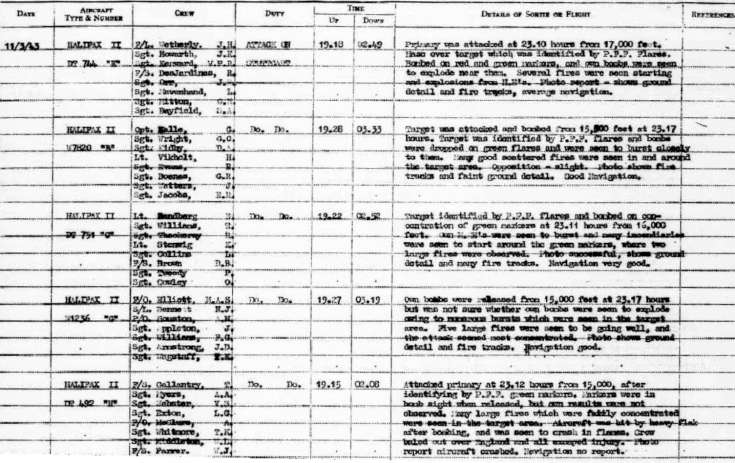 The Slaugham Archive
New evidence of the Halifax disaster
I have now heard from Clive Smith who has been researching the Halifax bomber which caused such devastating damage to High Beeches house on the night of 11th/12th March 1943.
Clive has obtained a copy of the relevant page of the Operational Record Book (ORB) for 76 Squadron based at Linton-on-Ouse, Yorkshire which shows details of the flight piloted by Flight Sergeant Tom Gallantry. Click on Open Document to view a larger version by using the zoom buttons.
The five aircraft listed on the sheet all left their base at around the same time and arrived at Stuttgart within a few minutes of each other. The flight should have been carefully timed to allow the Pathfinder Force (P.F.F.) to mark the targets with flares which the main bomber force could aim at, thereby increasing the accuracy of their bombing. However, on this occasion the delay was too long and the operation was not considered to be successful.
Of the five aircraft listed, the doomed Halifax was reported to have arrived home earlier than the others as obviously it "landed" in Sussex rather than Yorkshire.
I would suggest that the "crash in flames" sentence refers not to the High Beeches aircraft, but to another plane, presumably listed on another page of the ORB and which did not return home.
There seem to have been a couple of myths regarding this flight in general circulation since the time of the incident.
Firstly, the flight is mostly reported as being Canadian, but 76 Squadron was British, although, on this sortie, at least two members of the crew were Canadian. See
picture #1370
for details of the crew members. 76 Squadron vacated the airbase at Linton-on-Ouse to make way for a Canadian squadron, but this did not take place until June 1943.
Clive has requested an opinion on this matter from Bill Chorley, a knowledgeable expert on 76 Squadron. He replied as follows "76/DT492 - No connection with any RCAF squadrons. 76 Squadron received DT492 ex-158 Squadron Conversion Flight on 14th October 1942, after which it flew 25 operational sorties. Destroyed in the manner described in Volume 4".
By way of explanation:- DT492 is the number of the Halifax, as shown on the ORB; RCAF is the Royal Canadian Air Force; and he refers to volume 4 of his book "Bomber Command Losses".
Secondly, it is often reported that this was a leaflet-dropping flight, but the fact that it deposited 10,000 lbs or so of bombs on Stuttgart a couple of hours before it crashed was somehow overlooked! Could it be that there were some propaganda leaflets on board the plane which got scattered when it crashed, and which led to the story?
Open Document
Picture added on 04 February 2015 at 15:52