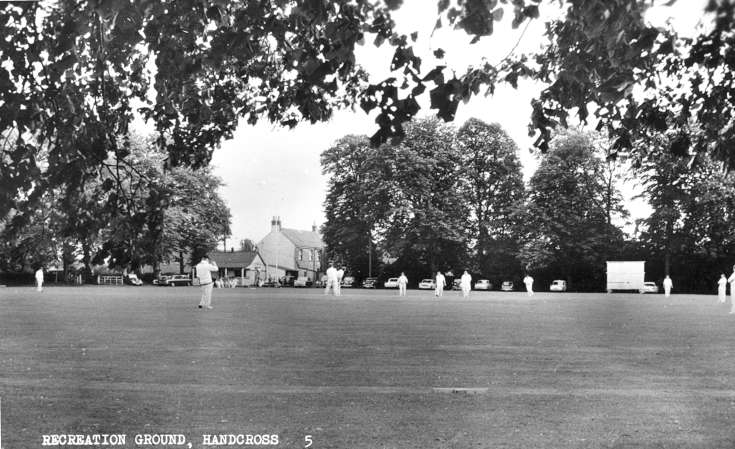 The Slaugham Archive
Cricket match at Handcross Recreation Ground
This is a general view of the Recreation Ground in Handcross. There is a fine selection of, what we now call, classic cars along the far perimeter.
At that time, the old pavilion was still located in the corner next to the Fountain, and, before it was closed by West Sussex County Council in 1976, the village library operated at the rear of the building.
I was always puzzled why the pavilion, formerly the clubhouse of the local West Park Golf Club, did not face towards the cricket square.
Until I found this postcard I had forgotten that there was a very tall flagpole next to the pavilion, but I can never recall seeing a flag flying from the top!
In those days a hedgerow, including mature trees, divided the recreation ground, from Gravelpit Corner towards the A23, and the photographer is standing beneath one of those trees. Indeed, in earlier years the northern part of the recreation ground was called Comber's Meadow and did not form part of the area accessible to the public.
I think Handcross are batting as the batsman farthest away, backing up as the fast bowler starts his run, looks like Jim Brown. On the postcard he is just 4mm tall, but the colour of the hair and the pose gives him away! Please feel free to contradict me.
As so often happens, a member of the batting side has had to umpire at the far end as he is wearing cricket flannels, and I suggest that he is possibly Ken Doggett.
The Large Version shows a close up of the action.
View Large Version
Picture added on 11 February 2015 at 18:42