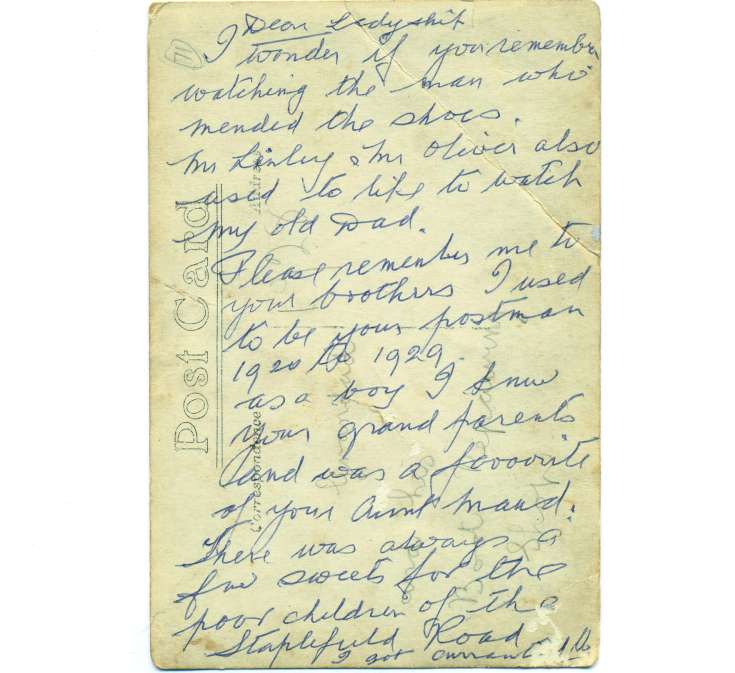 The Slaugham Archive
Message to Countess of Rosse at Nymans, Handcross
This is the reverse of the postcard featured at
picture #71
showing boot repairer, Bill Tulley (1861-1954).
I had originally ignored the reverse as I did not recognise the names Mr Linley and Mr Oliver. It later occurred to me that that the first name, Linley, runs through the family of Maud Sambourne who married Leonard Messel, right up to today's Viscount Linley, known professionally as David Linley, cabinet maker. I realised that the gentlemen were Anne Messel's two brothers, Linley Messel and Oliver Messel.
The message reads:
"Dear Ladyship, I wonder if you remember the man who mended the shoes.
Mr. Linley and Mr. Oliver also used to like to watch my old Dad. Please remember me to your brothers.
I used to be your postman 1920 to 1929.
As a boy I knew your grandparents and was a favourite of your Aunt Maud.
There was (sic) always a few sweets for the poor children of the Staplefield Road.
I got (illegible)."
There seems to be no doubt that the message was sent to Anne Messel, who did not become a "Ladyship", i.e. the Countess of Rosse, until her second marriage in 1935, this time to Laurence Parsons, 6th Earl of Rosse.
The grandparents mentioned would have been Ludwig and Annie Messel. Ludwig, and his brother, Rudolph, had arrived in England from Germany in 1868, and Ludwig purchased the Nymans estate in 1890.
Anne Messel's mother was Maud, but I am assuming that the Aunt Maud referred to was probably her father's eldest sister, Ottilia Maude Messel (1873-1945).
As for the sender who wrote "my old Dad", the identity is fairly obvious. The boot repairer, Bill Tulley, had three children. Harry Tulley (1898-1918) died "of wounds" at Flanders and is listed (as Harold Tully) in the Slaugham Roll of Honour (
picture #1295
).
The daughter, Beatrice Tulley, married Tom Page in 1927 and they lived at 2, Triangle Cottages for much of their married life.
Therefore the postman and the sender of the message was Frank Tulley (1894-1983), who lived in 2, Triangle Cottages with his parents until he married Ellen Stenning in 1917.
There is yet another story connected with this postcard! Someone has used the card previously, by writing in pencil at 90° to the later text. It is faint, but still readable.
The message reads "1928. Grandad and his boot repairing business". Bill Tulley had three grandchildren from his son and two from his daughter. Therefore, it was written by one of William, Ellen, Beatrice, Joan, or Stanley. In 1928 their ages ranged from 3 to 7!
Picture added on 10 March 2015 at 16:13
This picture is in the following groups
Nymans
Comments: