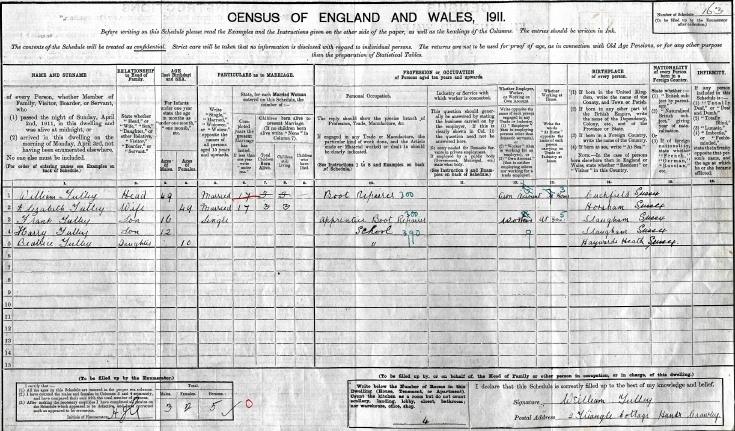 The Slaugham Archive
Frank Tulley - Memories
Frank Tulley (1894 to 1983), see
picture #1400
, was born in Handcross and lived at 2, Triangle Cottages for much of his early life. Above is a copy of the 1911 Census Return showing the Tulley family.
He was an apprentice in his father's boot repairing business (
picture #71
) and then worked as a postman in Handcross and the surrounding villages during the 1920s.
Later he moved to the Sussex Coast, but in about 1980 shortly before he passed away he visited Handcross and called in to see my father, Roger Ray. My father managed to set up his reel-to-reel tape recorder and captured some 28 minutes of the conversation.
All three persons in the conversation, including my mother Nora Ray, were born in the Slaugham parish and the Sussex dialect makes it difficult to understand at times! Among those mentioned are Mabel Edwards, Maggie Kensett, PC Archer, Jim Longhurst, Frank Burtenshaw, Frank Faulkner, Dr Flint, Walt Cummings, "Chadder" Gates, "Froggy" Gates, "Pop" Songhurst, Charlie Sands, Ralph Sands, "Dick" Dancey, Bill Snelling, Walter "Wally" Bristow, Charlie Etherton, Fred Mitchell, Charlie Langridge, Rev Dengate, Don Jakes, Bill Robinson, Harry Bailey, Harry Ray, Charlie Manning, Harry Bateman.
He recall some splendid japes, one of which was when Frank and his mates ordered pints of beer at the Sundial pub in Slaugham one at a time, so that the landlord had to repeatedly descend and ascend the steps to the barrel in the cellar.
Another recalled the time when five young lads gathered outside Mrs Jackman's sweet shop and they would take it in turns to go in the shop and order a pennyworth of bulls eyes. This would involve Mrs Jackman getting a ladder to fetch the jar from the top shelf and return it. After four boys had made their purchases one at a time, my grandfather, Jim Longhurst, went in, but Mrs Jackman had kept the jar on the counter. She enquired if he wanted a pennyworth of bulls eyes, and after a negative reply returned the jar to the top shelf. When she returned she asked what he wanted. His reply "A halfpennyworth of bulls eyes, please."
Use the controls below to hear the conversation.
Select Large Version for a close up of the Census return
View Large Version
Picture added on 10 March 2015 at 16:48
This picture is in the following groups
People