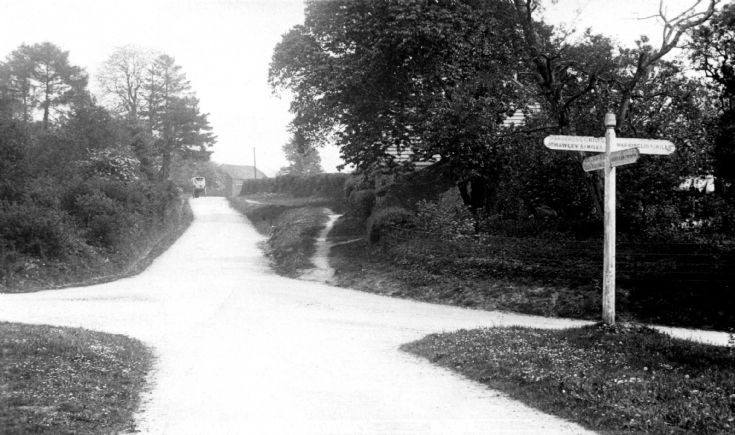 The Slaugham Archive
The crossroads beside Slaugham Furnace Pond
The crossroads beside the Furnace Pond in Slaugham have not changed much in the last 100 years, with even a fingerpost located in the same place. Obviously, it was not considered necessary to have road markings in those days!
The footpath on the far side of the crossroads leads to the well-hidden Furnace Pond Cottage.
On the road to Slaugham can be seen a horse and cart and I wonder if it is making deliveries for Mr Kensett's shop in the village. (See
picture #195
).
Initially, I assumed the building in the distance was the old school, but that is located somewhat closer to the crossroads. It turns out that the building was part of a group of farm buildings immediately opposite Naylands, earlier known as the Sundial or Nashland Farm. The building was described in the 1842 Tithe Map as a "milking plat", and no doubt was part of the aforementioned farm opposite.
The Large Version shows a close up of the main view.
Select Open Document to view a map of 1911 showing the farm buildings. Other buildings worth mentioning include Furnace Pond Cottage then comprising three dwellings, and the Old School having lost its pupils to new schools in Handcross and Warninglid in 1878 still served the community as a Sunday School. The bold line on the left indicates the boundary of the Lower Beeding parish, thereby effectively sharing the Furnace Pond with the parish of Slaugham.
The PDF file also shows a close up of the old signpost, quaintly informing us that the distances are in "miles".
View Large Version
Open Document
Picture added on 12 March 2015 at 09:34