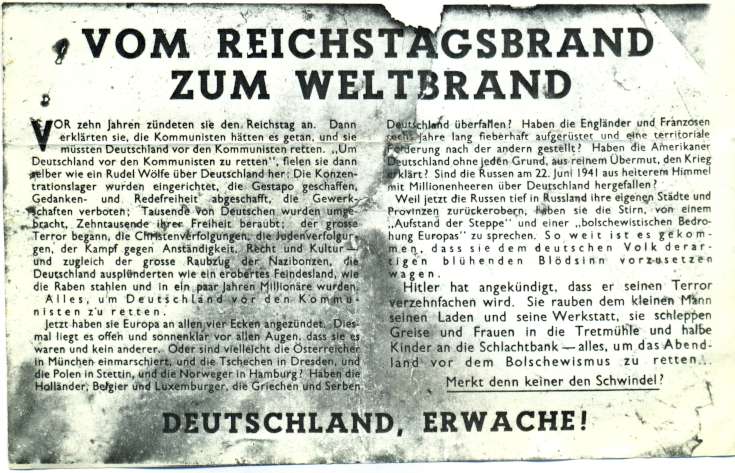 The Slaugham Archive
Leaflet from Halifax bomber at High Beeches
I am very grateful to Clive Smith, a local historian who specialises in wartime bomber crashes in Sussex, for his continued interest in researching the crash of the Halifax at High Beeches on the night of 11th/12th March 1943. To this end he visited the RAF Museum on 25th March 2015.
He was able to search the large volumes of books containing information on the different leaflets used in aerial drops, and details of the operations and dates when they were dropped.
He learned that during the raid on Stuttgart which ended so tragically at High Beeches, in addition to carrying out the bombing, some 672,000 leaflets of types G.7, G.8, G.9, and G.10. were dropped, and it is of particular interest as it is of leaflet G.10 that my father, Roger Ray, obtained a copy fairly soon after the war. He was serving abroad in 1943, and I do not know for certain, but it seems highly likely that on his return he obtained a black and white copy of one side of a badly damaged leaflet found at the scene of the crash at High Beeches. This is reproduced above.
I cannot find a copy of the reverse side in the archives, but Clive was able to obtain a colour copy of the leaflet and an English translation from the museum.
There was some further general information about the leaflets at the museum, and it was suggested that dropping the leaflets in the city centres was less successful that dropping them in the general area of the city because the German authorities got schoolchildren to collect up the leaflets in the centre, whereas on the outskirts this was not as easy. Of course it was an offence for the German civilians to get caught reading this material.
Click on Open Document to view both sides of the leaflet and the translation. It is a chilling thought that all these events took place within the lifetime of many people viewing this website today.
Open Document
Picture added on 28 March 2015 at 10:12