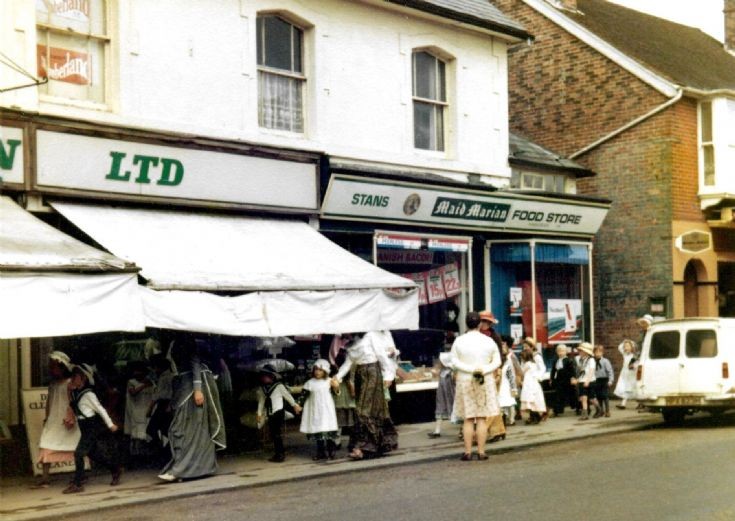 The Slaugham Archive
Handcross School pupils walk to church
On the day before the centenary celebrations were held at Handcross School, teachers, pupils, and some parents walked in a procession from the school to All Saints Church for a thanksgiving service. All those in the procession, and the Rev. David Towne waiting at the church, were dressed in Victorian clothes. To view a video of the celebrations including the procession to the church visit
picture #771
.
The picture shows a small part of the procession walking through the High Street. To the left, with the white awnings is the clothing and haberdashery shop of E. S. Hibbs and Son Ltd, and to the right is Maid Marion grocery shop.
The Large Version shows a close up.
Click on Open Document to view another picture of the procession. It is somewhat out of focus creating the feel of a period painting by a French impressionist!
Initially I was unable to identify the location as I could not recall any Scots Pines along the route. However, I then identified the white object behind the leading lady, Mrs Josie Ray, as the cricket sightscreen in the Recreation Ground. Further investigation located three Scots Pines on the roadside beside the present-day roundabout at Gravelpit Corner at the start of Balcombe Lane.
View Large Version
Open Document
Picture added on 02 April 2015 at 21:19
Comments: