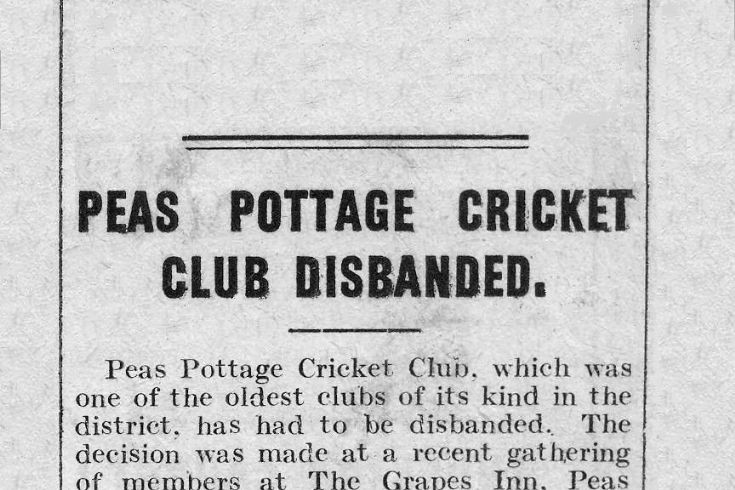 The Slaugham Archive
The end of Pease Pottage cricket club
With many of the Pease Pottage cricketers serving in the war and with the loss of their ground for agricultural purposes, the club was forced to accept the inevitable and disband its activities forthwith. In due course the ground became the present-day location of the car dismantlers, G.W. & G. Bridges Ltd.
However, there was an element of optimism in a General Meeting when the final few words of the minutes recorded "Mr O. T. Norris should act as temporary secretary and treasurer till the return of normal times."
The Large Version shows a copy of the minutes for this meeting but, as it is difficult to read, the full text is shown below.
"A General Meeting was held at the Grapes on April 5th 1940.
Present: in the chair Harry Ray, Gerry Ray, Joe Ray, Roger Ray, Bert Hygate, Nelson Cook, Colin Cook, G. Linnis?, L. Pierce, Charles Songhurst.
A clock was presented by the members to Mr Songhurst, and a cigarette case to Mr H. Ray, both as marks of esteem and gratitude for the long and loyal service rendered by these two gentlemen to the Club.
It was resolved unanimously that during the war the club should be carried on as well as might be possible, and hope was expressed that two or three Sunday matches might be arranged.
It was resolved that members' subscriptions should not be payable under present circumstances, but that a sum of 6d per week should be collected from the players in any match or matches that might be played to cover small out-of-pocket expenses.
The treasurer handed to Mr Norris the balance (£5.1. 9d) in hand from last season, and it was resolved that Mr Norris should act as temporary secretary and treasurer till the return of normal times."
Normal times, as such, did not return and, as there were no further meetings, the minutes were never signed!
Select Open Document to read five newspaper reports relating to the winding up of the club.
View Large Version
Open Document
Picture added on 12 April 2015 at 16:22