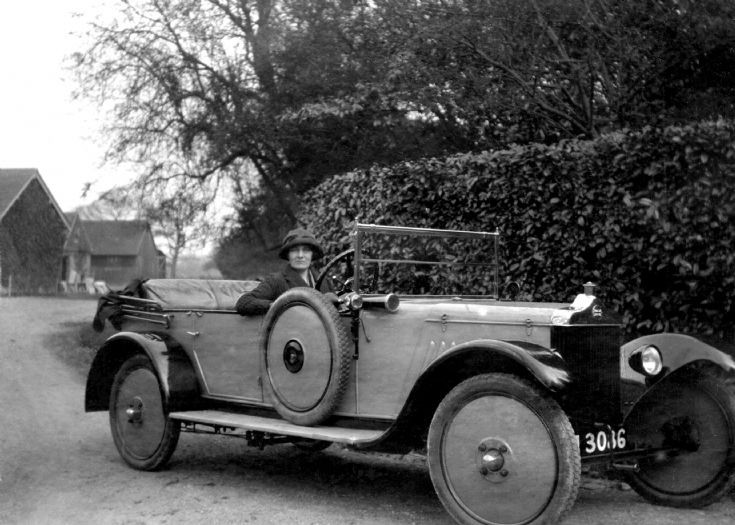 The Slaugham Archive
Mildred Clifton Nix of Tilgate and Free Chase
I am grateful to Jennie Pettit (née Hood) for sending me the Order of Service for the funeral of Mildred Clifton Nix (née Brown) held on 8th April 1949. Mildred died aged 73 on 5th April 1949 and her funeral was just three days later; somewhat quicker than we are used to today!
The front copy of the Order of Service can be seen by selecting Large Version.
She and her husband, Charles G. A. Nix, moved to Free Chase, Warninglid from their mansion at Tilgate in 1938 due to the ever-increasing costs of running such a large house, and, with the imminent possibility of war being declared, the mansion would be a strong candidate to be requisitioned for military use.
Above is a photograph of Mildred from March 1923 to which Charles has added the comment "My baby Standard car". The registration number was XM 3086, but according to the DVLA no record now exists for the car. The union flag depicted on the radiator is a clear indication that it was made by the Standard Motor Company in Coventry. The object on the top of the radiator is certain to be a water temperature gauge, which the driver could keep an eye on whilst driving.
In January 1945 my father, Roger Ray, but known as Rodney in his early years, received a letter from Mildred and a copy can be viewed by selecting Open Document.
It became increasingly difficult to read the letter towards the end due to her operation and therefore I have added a transcription of the part that I can read. The letter refers to my grandparents, Harry and Minnie Ray, who worked for the Nix family and moved with them from Tilgate to Free Chase. I am the "nice-looking and enterprising boy" named in the letter. What on earth went wrong?
The transcription is on page four of the PDF file.
View Large Version
Open Document
Picture added on 19 April 2015 at 20:13