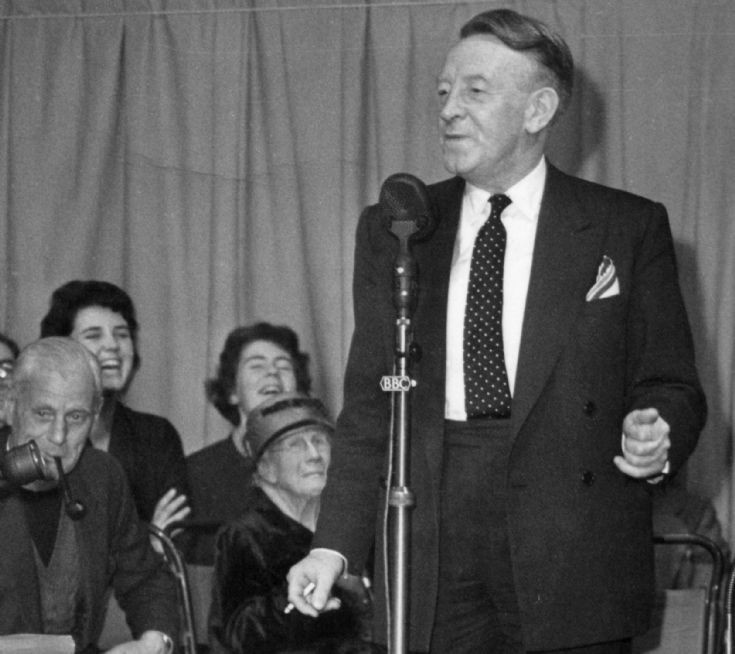 The Slaugham Archive
Mrs Agnes Dengate listens to Have A Go
A few days before Christmas 1961, Wilfred Pickles and his team came to Sussex and invited Handcross to "Have A Go".
One of the stars of the show was 95-year-old Mrs Agnes Dengate and she is shown in the this photograph on the stage with Wilfred warming up the audience just before the programme went out live from the Parish Hall. On the left is Rev. Edward Bradbrooke and, behind him, one of his choir, Penny Housby.
To listen to the show and view photographs and other material, enter "Have a Go" in the search box above.
When the programme was repeated the following Thursday, Roger Ray recorded the programme off the radio with his old reel-to-reel recorder. However, Mrs Agnes Dengate missed the repeat and my father took his recorder to Tollgate Cottage so that she, and her daughter, Daphne Dengate, could listen to it.
When the recording finished my father "mistakenly" switched the machine to "record".
Use the controls below to listen to the ladies' reactions.
Picture added on 25 April 2015 at 20:23